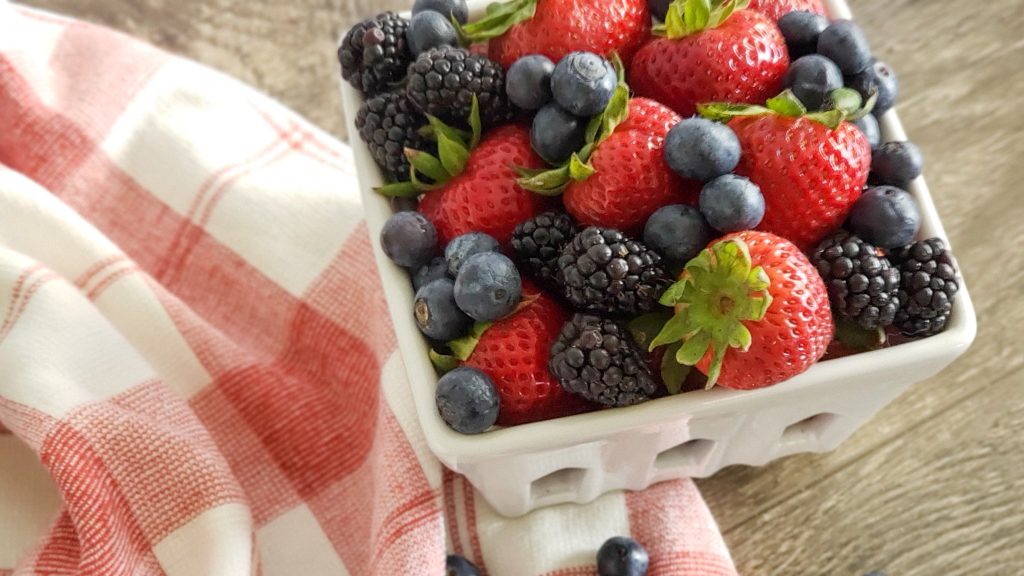 I found myself in a rut awhile back, handing my kids a plate with the same boring breakfast every day. Why? Probably because like most parents, I'm trying to juggle it all, and I got in the habit of making the same quick food daily because, in all honesty, I didn't have the time to look for other quick options. Well, I started to notice my kids complaining and eye-rolling every morning as breakfast rolled around and getting slower and slower with their morning routine. Realizing I didn't want to start my mornings with little eyes rolling at me before I had my coffee….I decided I needed to make a change. I spent a lot of time looking and taste testing with these little eye-rollers to find easy, quick and healthy breakfast options that were kid-approved. These were our favorites and so we wanted to share them with you!
Ever heard that breakfast is the most important part of the day? Yup, me too! In fact, it's something my parents continually told me growing up and now I find myself repeating to my children 🙂 In fact, I would bet that if you were to ask any teacher, that they can hands down tell whether a child has had a good breakfast, sugar cereal/pop tarts etc or even skipped it. Teachers am I right?!?!
Getting a healthy and nutritious meal first thing in the morning will impact the rest of a child's or even your day. But healthy doesn't have to mean time-consuming! My goal is to help make life simpler for busy mamas! So here is a list of my top ten quick and delicious breakfast ideas that take under five minutes to prep and start your day off the right way!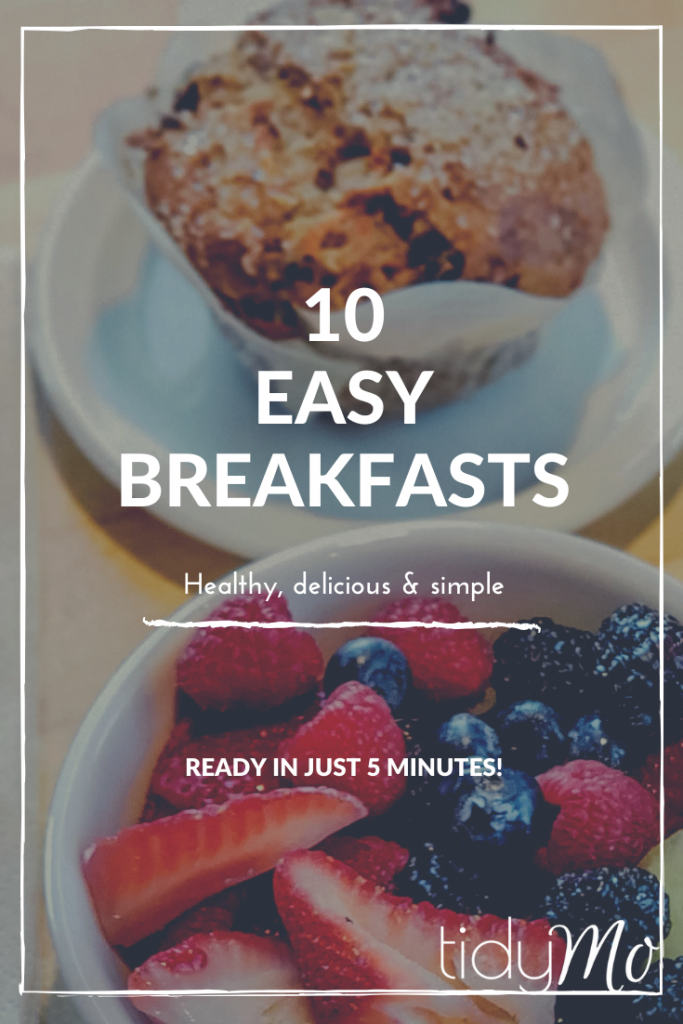 How to get breakfast on the table in less than 5 minutes!
Prep all your fruit on Sundays before the week starts and keep it stored in airtight containers in the fridge. Or for smoothies, buy fruit in bulk, cube and freeze it to pull out quickly on mornings you want smoothies!
Make all these baked muffins, bread, egg bites and egg Mcmuffins ahead of time and freeze! Then simply pull out in the morning and quickly heat up!
I have included these affiliate links for your shopping convenience.  I understand that you have lots of options when you shop.  When you choose to shop using these links, it doesn't cost you anything, helps support our blog and I appreciate it!
Top 10 quick breakfast ideas
1. Acai smoothie bowl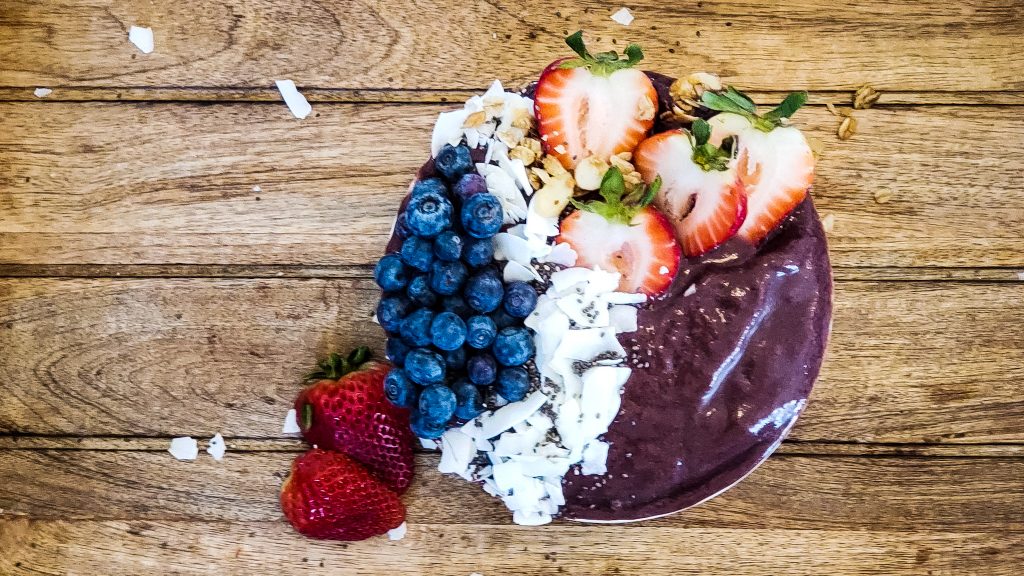 One of the healthiest and most filling breakfasts. This Brazilian super fruit, Açai is full of amazing health benefits and is so good!
A thick, creamy smoothie eaten with a spoon and topped with your favorite toppings such as fresh fruit, homemade granola, coconut flakes, and chia seeds.
Click here for the full recipe for this authentic Brazilian acai bowl!
2. Acai smoothie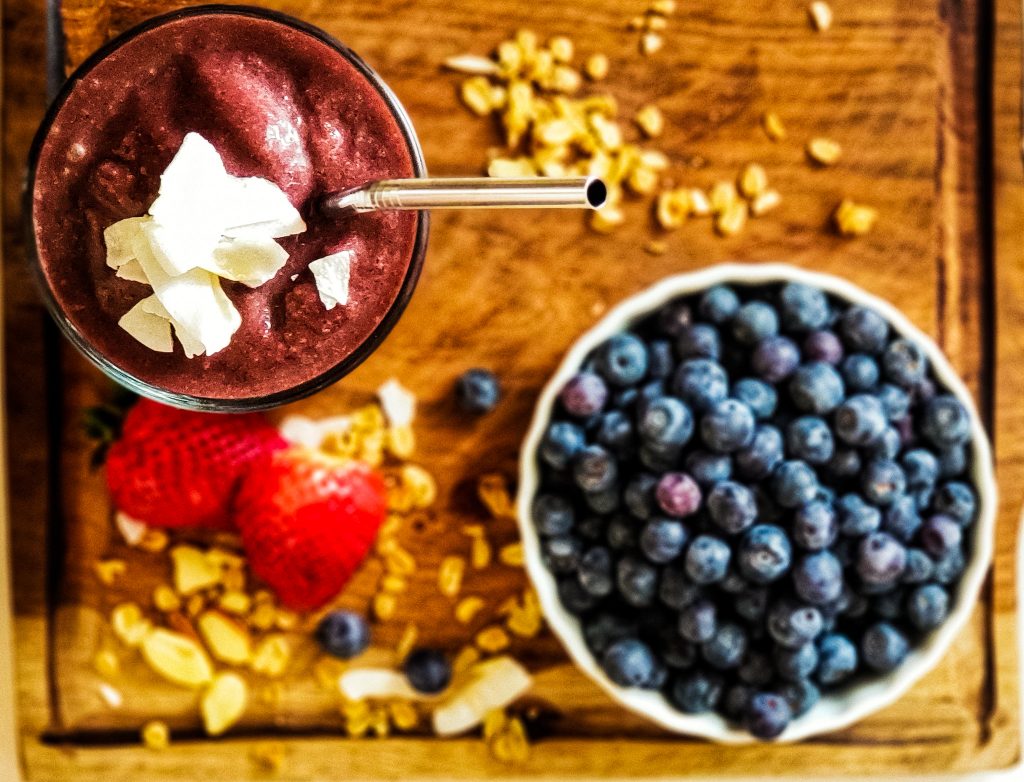 An on-the-go variation of the traditional acai bowl. This smoothie has all the health benefits of the bowl but is the consistency of a typical smoothie and great for when you need breakfast on the go.
Click here for the full recipe for this superfruit acai smoothie!
If your family enjoys smoothies…then you will want these spill-proof kids tumbler/straw cups! Say goodbye to cleaning up spilled juices and drinks 🙂
3. Yogurt parfait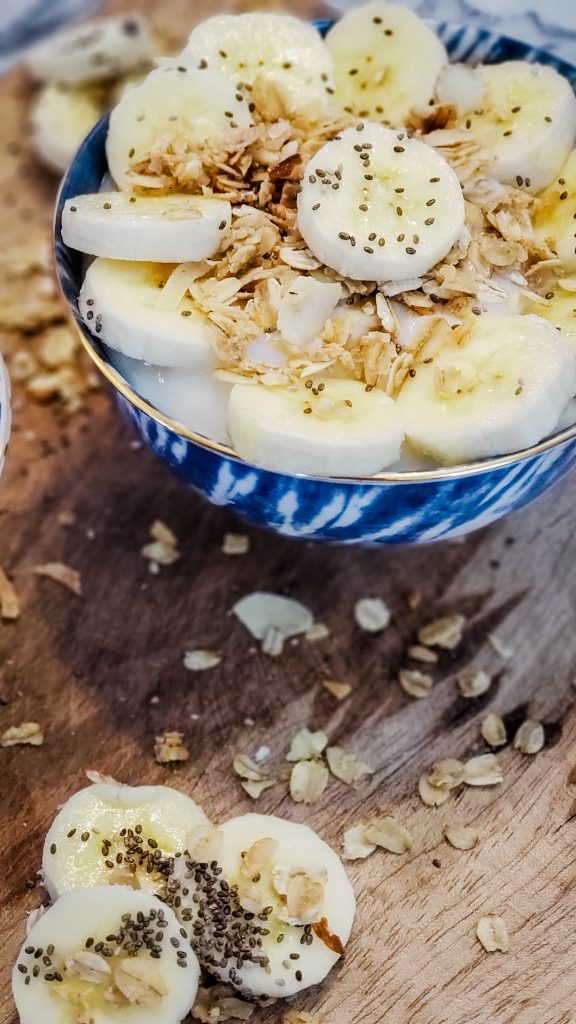 This is one of the most common in my house because it is so fast.
Grab your favorite yogurt, layer with the best homemade granola recipe you will ever taste, fresh or frozen fruit, and honey.
We also like to add chia and flax seeds.
Click here for the best, easy homemade granola recipe!
4. Breakfast banana splits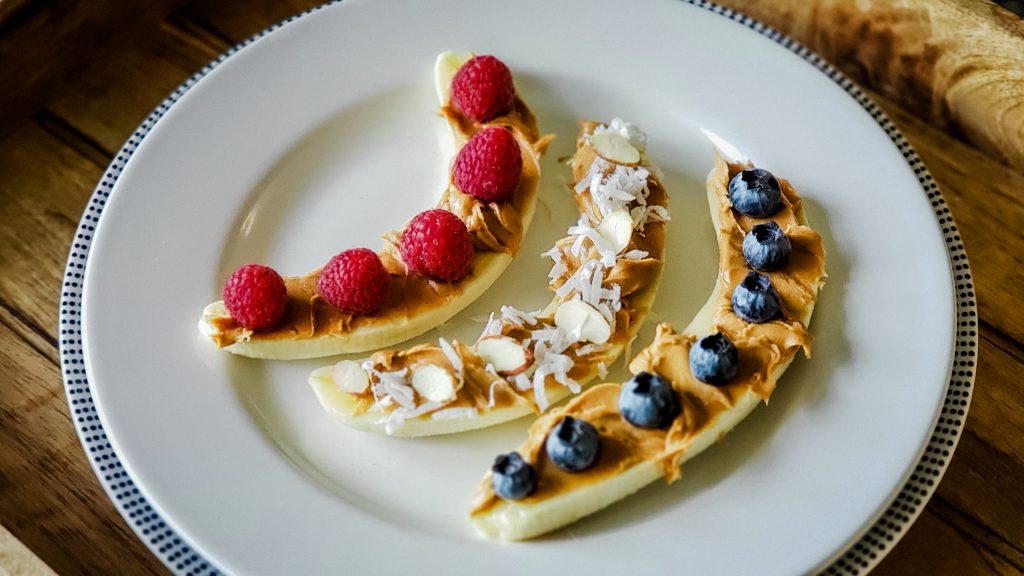 With everything we seem to use bananas for, we always have them on hand. So next time instead of just grabbing a banana and running out the door, try taking the extra minute and jazzing it up!
We like to add a layer of almond butter or peanut butter and then top with our favorite toppings. Some of which include:
Fruit
Honey
Chia seeds
Almond slivers
Chocolate chunks
Unsweetened coconut flakes
5. Fruit smoothie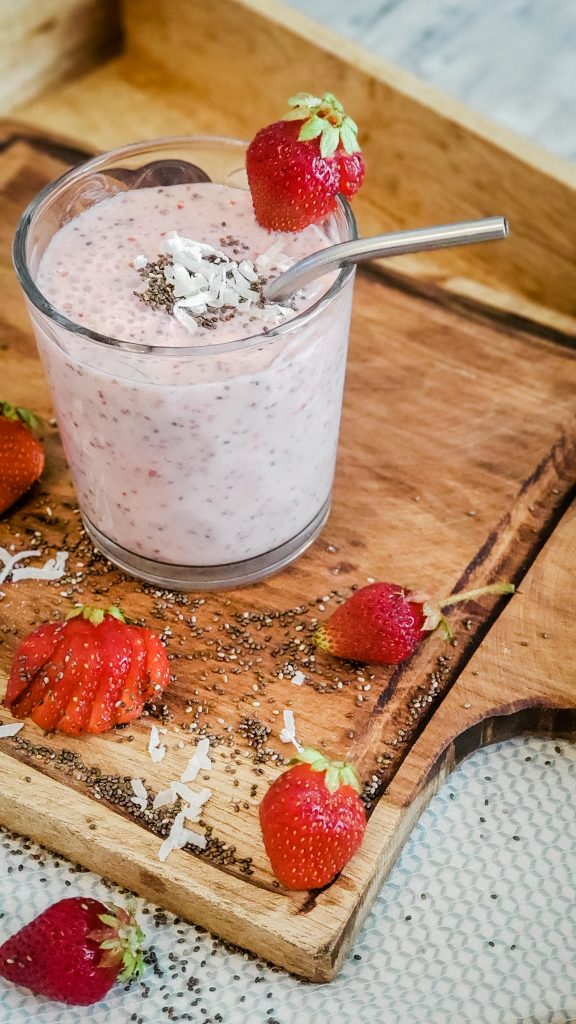 This is perfect for when you want to use up fruit in your kitchen for a quick and healthy on-the-go breakfast!
We like to mix coconut milk, a variety of fruit (whatever we happen to have on hand), chia seeds and ice! My husband and I are trying to avoid milk, and so we like to substitute yummy vanilla-flavored protein shakes.
Easy to customize for individual taste buds.
6. Homemade muffins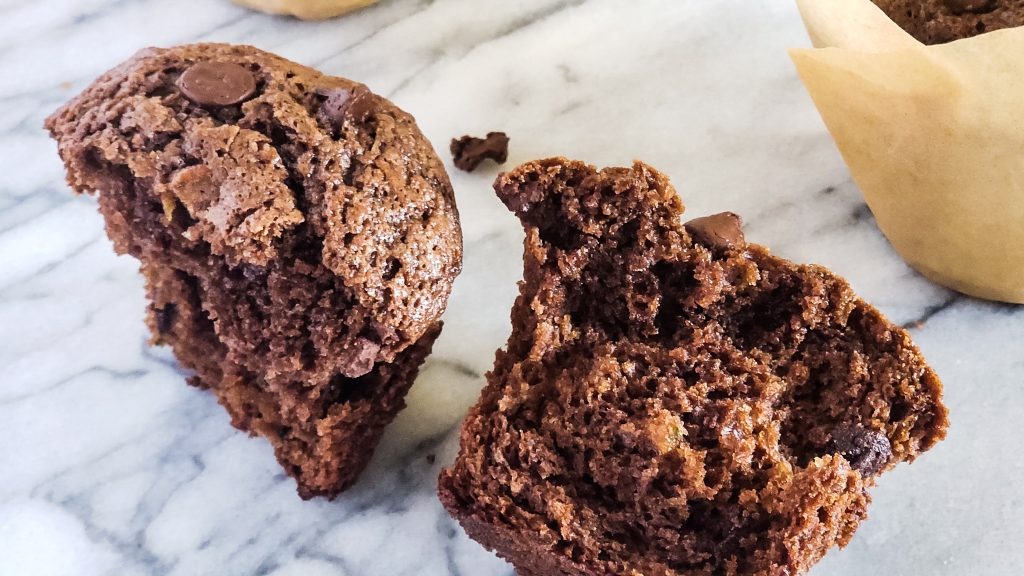 I love muffins for breakfast. I like to make a batch once a month on a weekend and then freeze them to take out for busy mornings.
Our current favorites are homemade morning glory muffins and double chocolate chip zucchini muffins. Delicious and healthy, these are a win for both mama and kids!
7. Egg bites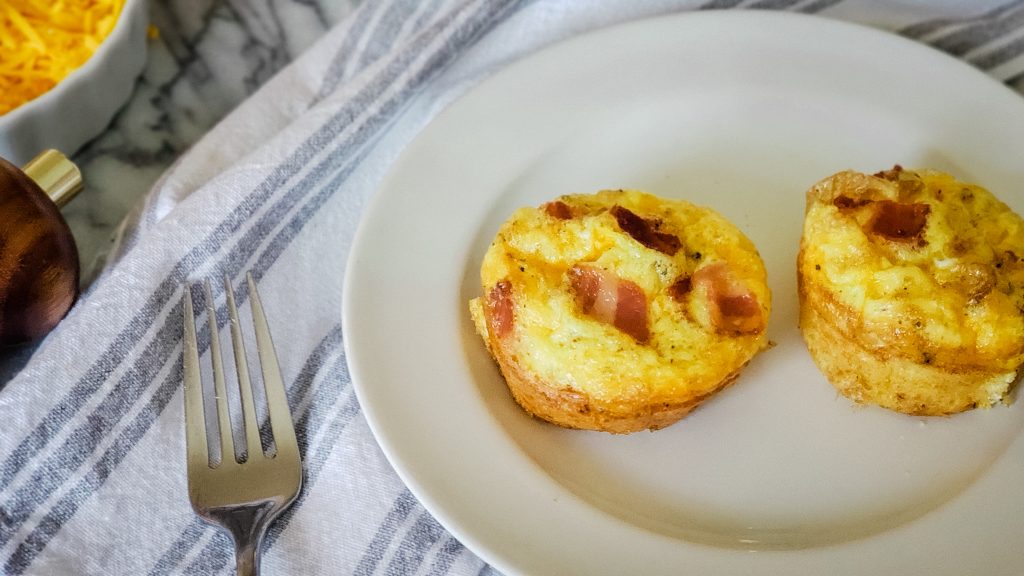 Eggs on the go!
These egg bites are quick and easy to make and are perfect to eat on the go!
All you need are greased muffin tins, eggs, your favorite spices, and toppings. Mix up and throw in the oven at 400°F for 12-16 minutes!
I tend to make these on a weekend to enjoy fresh but make extra to freeze for the upcoming week!
8. Egg McMuffin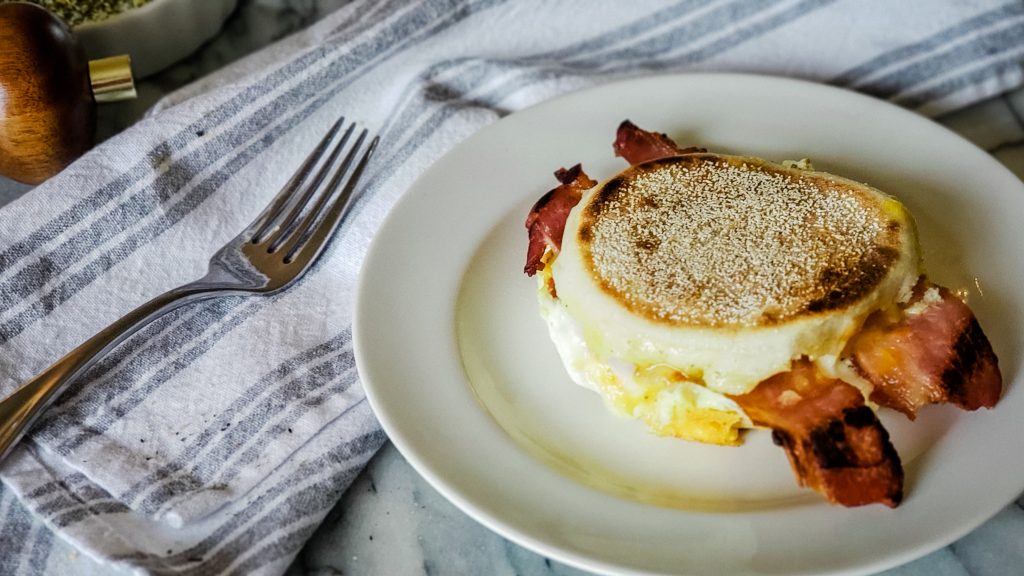 Everyone loves these at my house. You will need to get one of these egg Mcmuffins makers, but they are worth it! A tiny appliance and dishwasher safe make this easy to use and clean up!
All you need is this Mcmuffin appliance, an English muffin, egg, your favorite cheese, bacon, oregano ( I love to use Italian seasoning) and a little salt and pepper to taste!
Put it all on this mini griddle and its beep will alert you to a hearty and yummy breakfast ready for on the go and running out the door!
9. Homemade banana bread
Ask anyone, I'm the killer of bananas and always am left with "banana bread ready" bananas.
This is my favorite recipe for banana bread! I love to make it once a month and the pre-cut and freeze to pull out and put in the toaster ovens for an easy breakfast.
10. Good old granola bar and a piece of fruit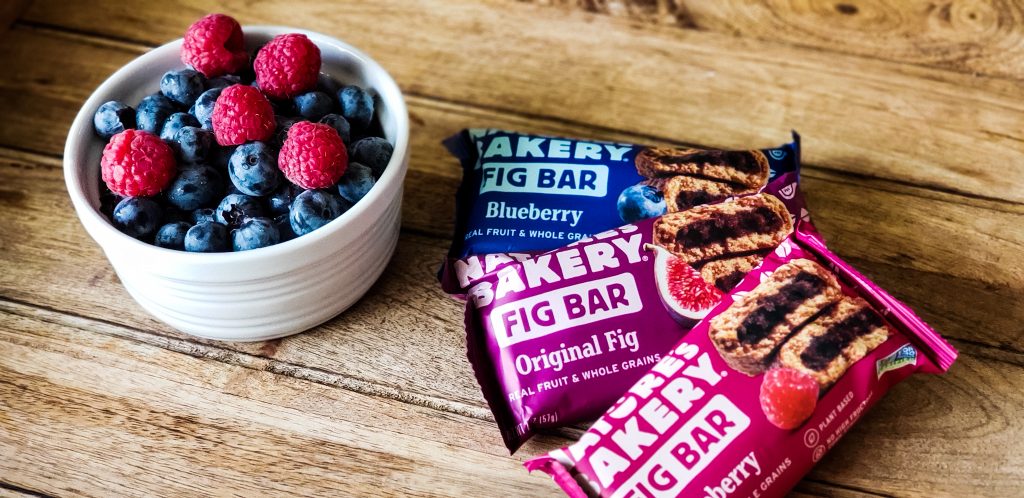 Let's be realistic. Some mornings, no matter how organized you are, are chaotic and a sit-down breakfast isn't going to happen. And mama, that's ok! Give yourself some grace!
Have a basket stowed away with some of your family's favorite granola bars and a piece of fruit, for those hectic mornings. We all need a grab n' go basket 😉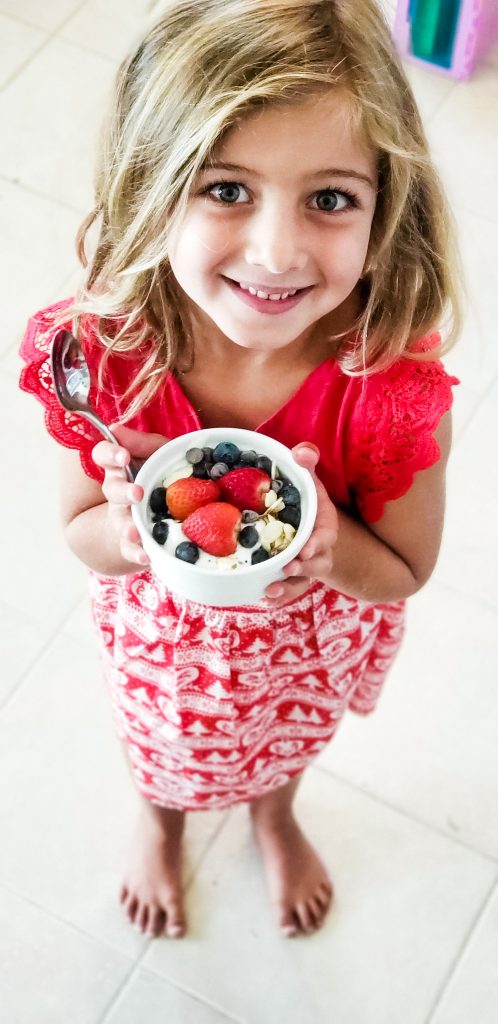 Hope these suggestions help to give you some new quick breakfast ideas!
What are your favorite quick morning breakfasts? Share yours in the comments below!
XO,
Morgan