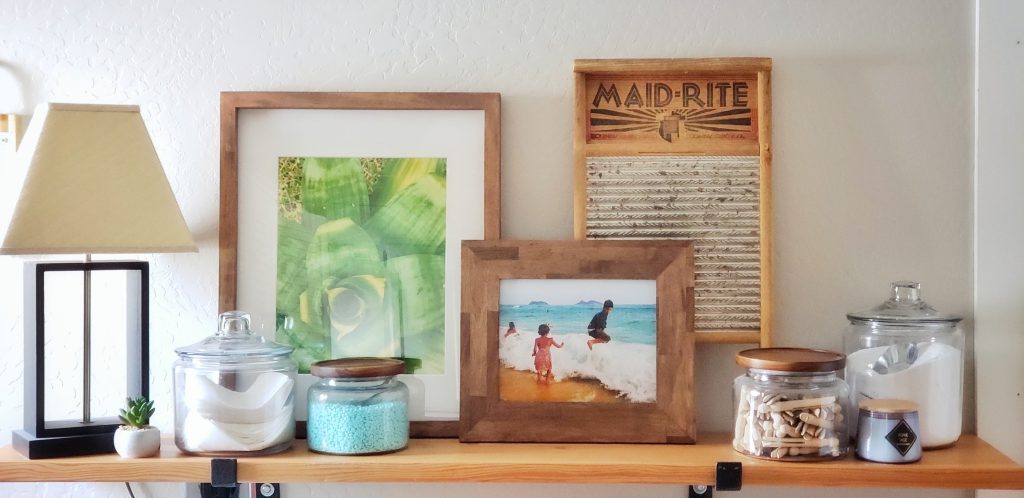 Anyone else spend more time than they care to admit in their laundry room? I know I do!
Bottomless laundry bin
I swear, I just will get to the bottom of the basket (you know that amazing feeling when you can actually see the bottom?!?), and suddenly it's full again! Yes, I've read the sayings about dishes to do, means food on the table. And so laundry piles mean clothes to wear. So yes, I am very grateful for that. However, it would be nice to be able to take a break and not have an even bigger pile waiting for me after. Well…..a girl can dream right?!? 🙂
Now that we have been in our house a little over two years, we are slowly checking off items from the hubby-do-list. Not quite as quickly as I'm adding them, but at least it's progress right? 🙂
Laundry room
Close to the top of that list was the laundry room. I have a great laundry room. It's the perfect size for laundry that results from our crazy family life. Plus, it's an actual room, not just a closet. So for me it's great!
Well, all that space means that I have a lot of room to customize it. I generally like to create boards on Pinterest for every room in my house, browse ideas, and pin them to the appropriate boards. Of those pins, I choose the first project that I fall in love with; the one that I decided would be perfect for that space. We start with that one and check it off the list! But then I like to spend some time actually using the space before I decide what to do next in that room.
Functionality
Starting with a single project per space allows me to base the rest of the design around the first idea. This allows the room to be functional and set up in the most practical way for the intended use. For example, I've realized the most used laundry items I like right above the washer and dryer for easy access. Basing each space off one idea you love is great in the long run for creating a functional and beautiful space. However now, it means I have lots of partially done rooms 🙂
Since I follow this idea in my home, my laundry room is far from being complete. Eventually, we will tackle the other updates. But for now, I thought I would share a DIY project that is simple, functional and pretty.
Shelves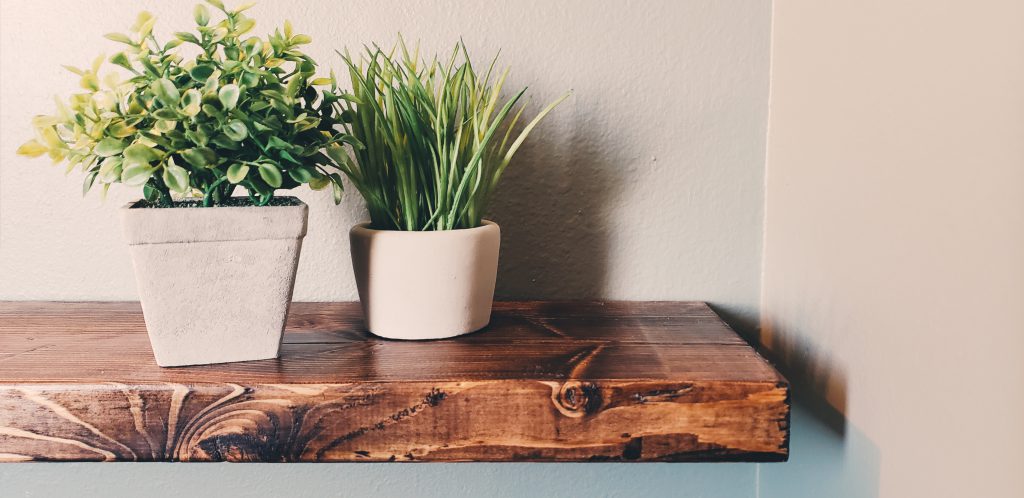 If you can't tell yet, I LOVE shelves! They are an easy way to organize and display items in a decorative way. This is true in a laundry room as well. No matter the size of your laundry room, a shelf above your washer and dryer will make life simple.
So if you are looking for an idea for that empty wall space above your washer and dryer, then keep reading!
Make or buy?
1 / Decide on a shelf. It all starts with this decision. Are you looking to buy a shelf that is ready to go? Or would you prefer to make your own that is customizable?

If you choose to buy a shelf, double check how much weight it can hold! You will want to make sure it can support sufficient weight depending on what you plan on placing on top 😉
If you have decided to make your own, then hop on over to this post to read about how to prep and stain the wood.
Along with choosing the shelf, you will want to decide on brackets. I love the metal brackets Glaucio made for me 🙂 Choose something that will fit the depth of your piece of wood and support the weight.
I chose to make my own shelf. This way I could make it to the exact length that I wanted, and customize the finish as well.
As a blogger, I may earn a small commission for any purchases made through the affiliate links on this site. I want to make it clear that your support means a lot to me and helps keep this blog running. Please note that using these links will not add any extra cost to your purchase. I have included them for your convenience, and I appreciate your support in using them.
Top 3 items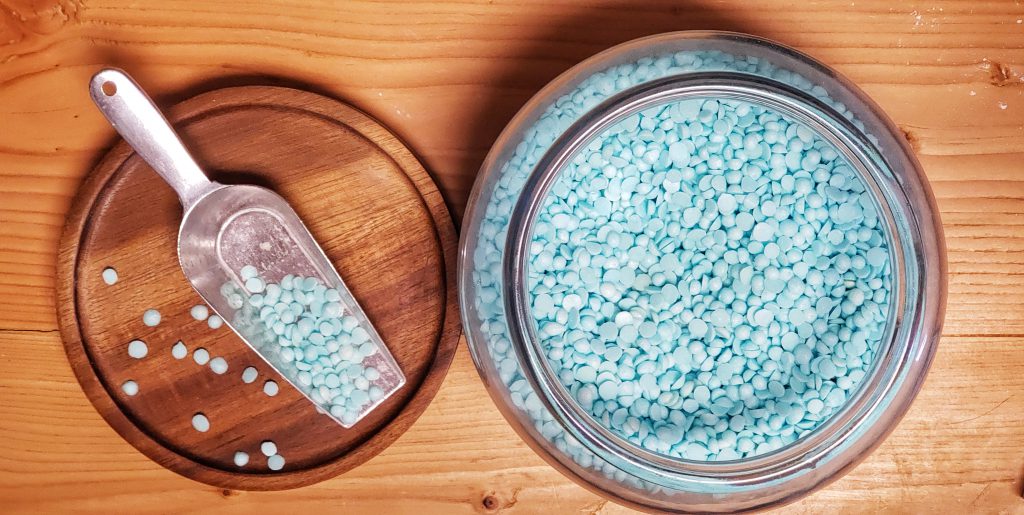 2 / Choose your most used items. Now is the time to take a look at what you use most every time you do laundry. Try and pair it down to three items.
For me, these were my top three that I have found I use on a daily basis.
Oxi Clean– You may know this about me already. But with a busy household of kids and animals, something is always needing a stain removed. My littlest has also hit the stage of starting to eat. Which means pretty much every outfit has the last meals leftovers down the front. I need something that can get these stains out!
Downy UnStoppables– I have to admit. I never thought I needed this. However, my husband requested a while back that I use something to make the laundry smell good once it was done. Growing up, his mom's laundry always had a fresh smell when it was put away. Well, I now love these too! They make all the laundry smell so good, the laundry room smells good, and even better, it makes those loads that I've forgotten in the wash until the next day smell good again too! 😉
Dryer sheets– Honestly, I really only use these with my towels. But I just love the look of them on the shelf in a jar instead of the box in my cupboard 🙂 If you like this look too, make sure to grab a wider jar like this one so they don't have to fold to fit!
This isn't saying that you only keep and use these three. I'm just suggesting that you only choose your most commonly used laundry items to put on the shelf. The rest can be stored in another location.
This will allow for ample space for the necessities, and a few decorative items to make the shelf visually appealing instead of being cluttered.
Storage containers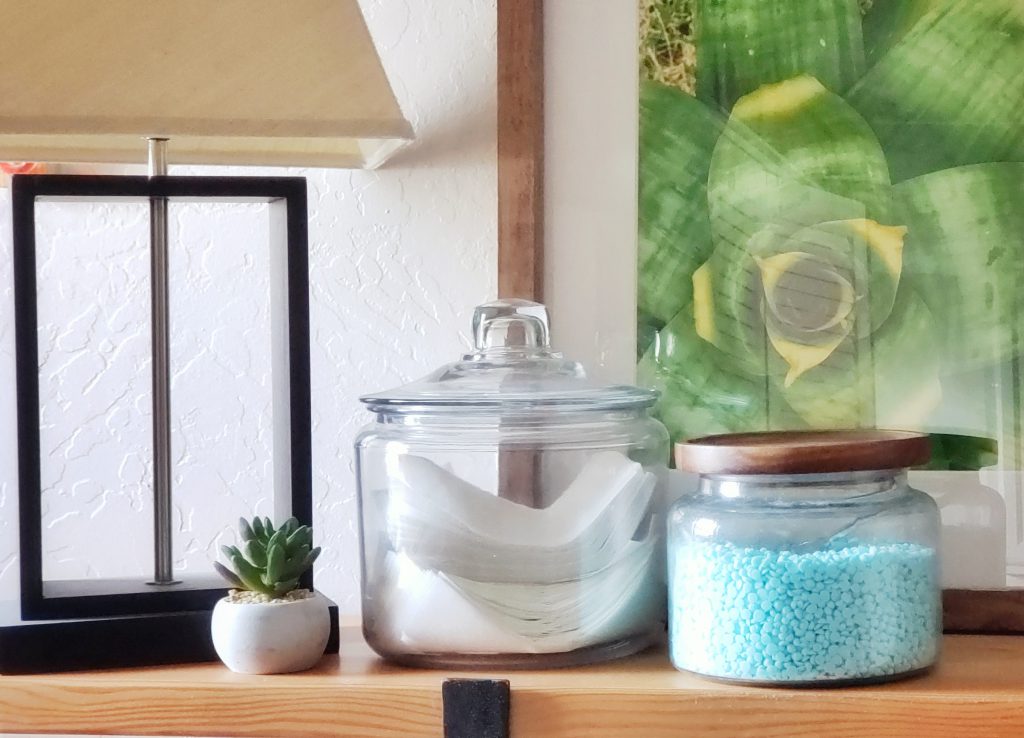 3 / Decide on your storage containers. Now that you have put aside your top three, it's time to choose storage containers for them. This is optional of course. However, there is something I love about going to do laundry and reaching for your dryer sheets from a glass container instead of the orange box 🙂
As you choose containers, opt for the clear options. This allows you to not only see the contents easily, but it allows you to see when you are running low. I don't know about you, but when I'm constantly looking at something that is almost empty, I am more likely to remember to get more versus grabbing from a box.
I love these glass storage containers! They come in a variety of sizes to fit your needs. Plus, being glass, they are easy to see what is inside and clean in the dishwasher when needed.
Last thing you want is to be running a load and go to grab what you need and all that is left is an empty box right? So go with clear 🙂
Metal scoops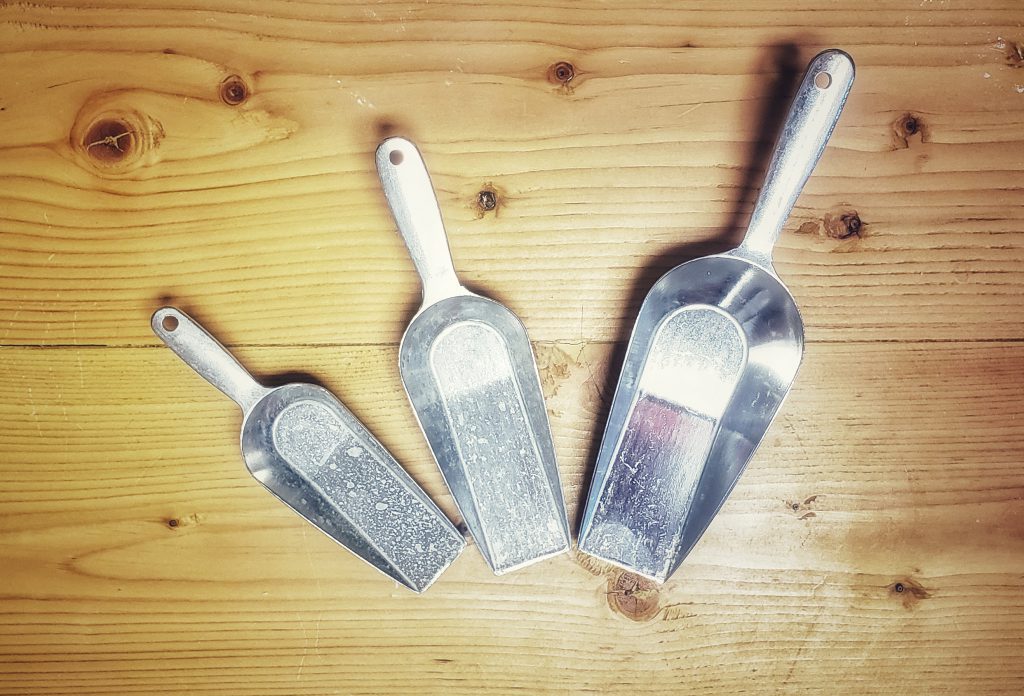 4 / Buy these metal scoops! It may sound silly. But when I spend every single day washing, drying and folding laundry, it makes it more enjoyable when I go to scoop the fragrant UnStoppables beads into the wash using this scoop rather than pouring into the plastic lid.
I don't know about you, but it is the simple things that make my days easier and more enjoyable. This is one of them for me 🙂
Decorating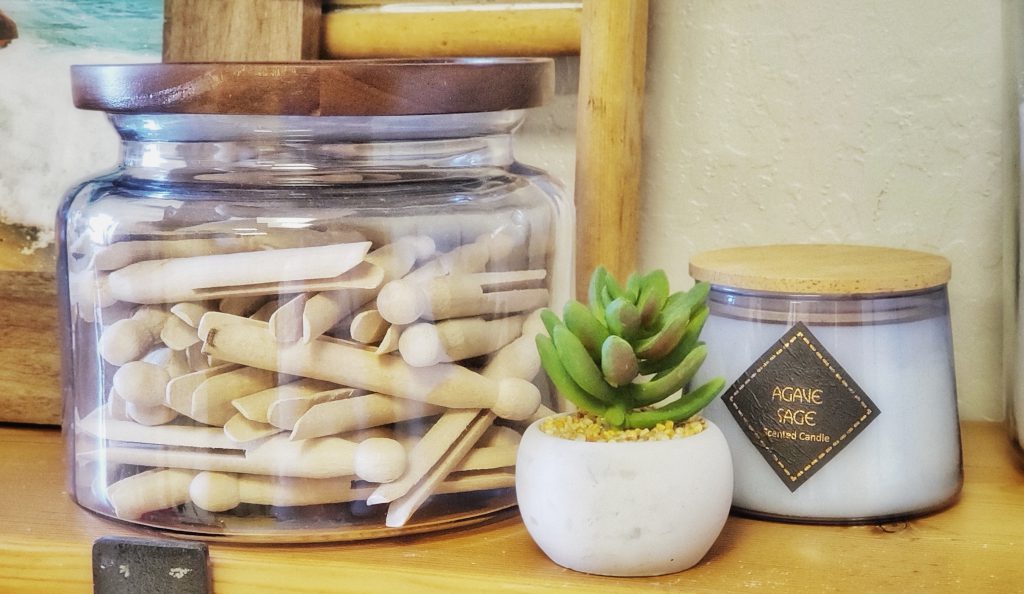 5 / Time to decorate your shelf! This is my favorite part; putting it all together 🙂
Start with something tall in the middle. Think art, photo or a large tray. To the left, put something tall; candlesticks, a lamp or a plant. To the right of the large item, place a low accessory with an organic shape.
Work your glass containers into what you have started. Don't forget the greenery! It makes all the difference.
As you arrange everything, keep in mind that less is more when it comes to your shelf. Keep it clean and clutter free and it will make you smile when you walk in to do a load of laundry seeing how great it looks regardless of what pile to wash awaits you on the floor 😉
What ideas do you have for your laundry room that are functional, make life simple and yet beautiful? Share your ideas below!

Happy tidying!
XO,
Morgan