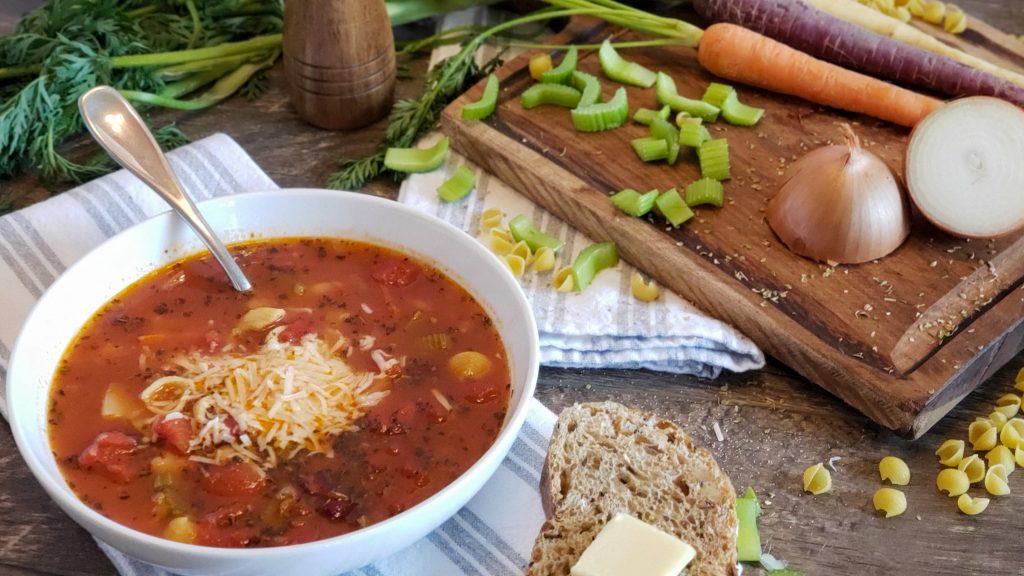 As I write this, it is still May, and so not quite "soup season". However, here in Montana, it feels like winter is back. We have had two weeks now of snow and rain 🙁 So I guess what I'm saying is in my book there is no such thing as "soup season!"
You always need a good hearty soup recipe for those cold days or when you are feeling under the weather no matter the time of year! This is a household favorite of ours!
Use what you have
Like this amazing homemade Italian sauce recipe, this Minestrone soup recipe is the perfect way to use up vegetables in your fridge! Especially the few leftovers that may be just about to go past their prime 🙂

The easy ability to customize this recipe to your family (aka kids) liking as well as the fact that it utilizes my favorite kitchen tool, the Instant Pot, will quickly make this recipe jump to your favorite list. If you haven't heard of the amazing Instant Pot, hop on over to here and see why this single tool will change your evenings!
Hope you enjoy! Make sure to subscribe to tidymo.com for my newest, tested and kid/family approved recipes to be sent straight to your inbox 🙂
As a blogger, I may earn a small commission for any purchases made through the affiliate links on this site. I want to make it clear that your support means a lot to me and helps keep this blog running. Please note that using these links will not add any extra cost to your purchase. I have included them for your convenience, and I appreciate your support in using them.
What you need: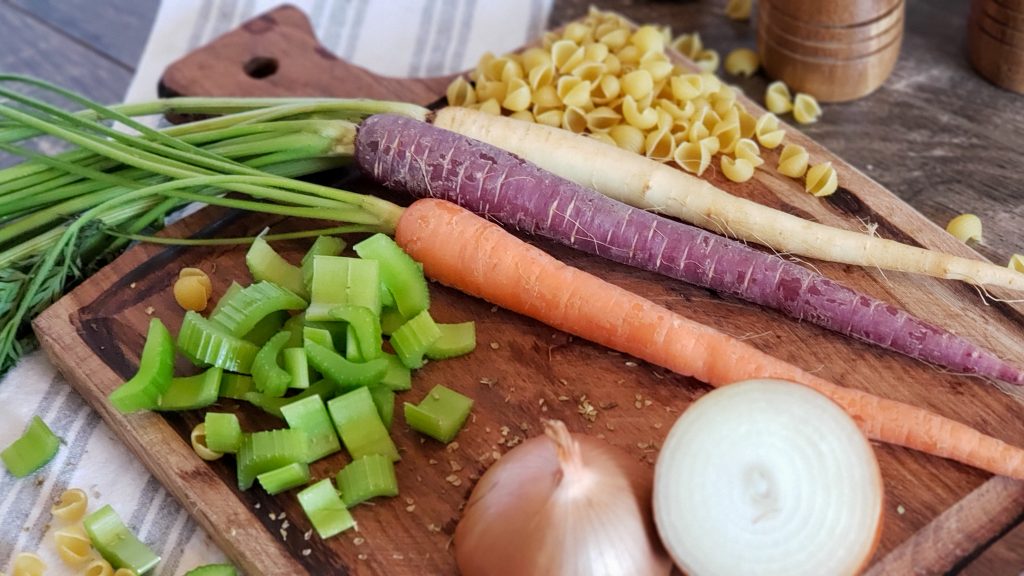 1 small onion, about 1/3 cup, diced
2 cloves pre-peeled garlic, minced
1 medium carrot, about 1 cup, chopped
1 large celery stalk, about 1 cup, chopped
2 teaspoons dried basil
1 teaspoon dried oregano
3/4 teaspoon dried thyme
34-oz can diced tomatoes: I usually use fire-roasted or Italian-style
6 oz tomato paste ( 1 tiny can)
1 bay leaf
32-ounce carton + 4 cups low sodium chicken broth
water – add only as much as needed to cover vegetables
1/2 cup dry uncooked small shell pasta, use gluten-free if necessary or leave out and add chopped potatoes or cauliflower instead**(see note about freezing)
1 medium zucchini, around 2/3 cups, sliced into halves or quarters
1/2 cup canned or cooked red kidney beans, drained and rinsed
1/2 cup canned or cooked cannellini beans, or great northern beans, drained and rinsed
1 cup fresh baby spinach (or kale), chopped (optional)
3/4 teaspoon balsamic vinegar
Shredded or grated Parmesan cheese, for serving
Fresh parsley, finely chopped, for garnish (optional)
Instant Pot: I have a 6 Quart DUO-Plus. However, read more here about why I love the newest Suis Vide function of this Instant Pot!!! This pot combines my very favorite two kitchen gadgets that are about to transform and simplify your life!
Mini food processor: I use this on almost every single Instant Pot recipe! It makes dicing onions and mincing garlic a breeze! And avoids "crying" while chopping onions 😉
Directions:
Step 1 – Prep and chop all your veggies
I love using this mini food processor to quickly chop/mince my onions and garlic.
For the rest of your veggies, it's best to chop by hand (in larger bite size pieces) so that you are left with actual veggies by the time the soup is done.
Step 2 – Press the SAUTE button and heat the oil
Add the oil and allow to heat up. Want a trick my mother in law taught me how to know when the oil is hot enough to add the next ingredients?
Take a peeled clove of garlic (extra) and drop into the oil. If it fizzles, then you are good to go! If not wait a little longer! Remove garlic and discard once oil is ready!
Step 3 – Saute
Add in the chopped onions and garlic. Saute for a few minutes until onions are clear, soft and fragrant.
Before adding the other ingredients, add in a 1/4 cup of water. Using a wooden spatula, scrape the bottom of the Instant Pot well. This will insure that there are no bits of onion or garlic stuck to the bottom of the pan. Otherwise, you will get an error message about 20 minutes into your cook time saying that it is burning. Take the extra 2 minutes to make sure the bottom of the pot is clear!
Add the carrots, celery, basil, oregano, thyme, tomatoes, tomato paste, bay leaf, water, dry pasta, and chicken broth.
Step 4 – Press the Cancel button
After sauteing the onions and garlic and adding the rest of the ingredients, it's time to get this soup cooking! Now is the time to press Cancel because you are switching from the saute feature to the pressure cooking.
Step 5 – Pressure cook
After adding the rest of the ingredients, then close the lid. Press the MANUAL (on older models) or PRESSURE COOK (on newer models) button and set on HIGH for 2 minutes. Turn the valve on top of the lid to SEALING.
Step 5 – Enable QUICK RELEASE
Once the soup has finished cooking for the 2 minutes, the Instant Pot will alert you with several beeps. At this point enable the quick release on the pot by turning the valve on top of the lid to the VENTING position.
This will release the pressure that built up during cook time.
Make sure there is nothing above the Instant Pot when you do the quick release as a lot of hot steam will escape the pot.
Step 6 – Add zucchini, kidney and cannellini beans.
Once the pressure is released, open the lid and add the zucchini, kidney beans, and cannellini beans. Press the SAUTE button and cook for another 4-5 minutes.
At this point, the pasta and beans should be cooked and tender (not falling apart). If you are using spinach, stir it in now.
Step 7 –Add salt, pepper, and balsamic vinegar
Season with more salt and pepper to taste and stir in balsamic vinegar.
Step 8 – Top with Parmesan cheese
Get ready to top with parmesan cheese and enjoy this yummy soup! My family loves to eat this soup with these savory Brazilian cheese bread (pao de queijo) balls!
Freezing
This is a great recipe to eat as soon as it is done or to freeze and have set aside for a quick weeknight dinner.
If you are going to freeze, omit the potatoes and pasta and make those fresh when you pull out the soup to thaw. Whether I'm heating up leftovers the next day or thawing for a dinner, I always add a little extra chicken broth to get more of a soup consistency. This is to taste of course, but after sitting, the veggies tend to absorb a lot of the liquid and I love the broth of this soup 🙂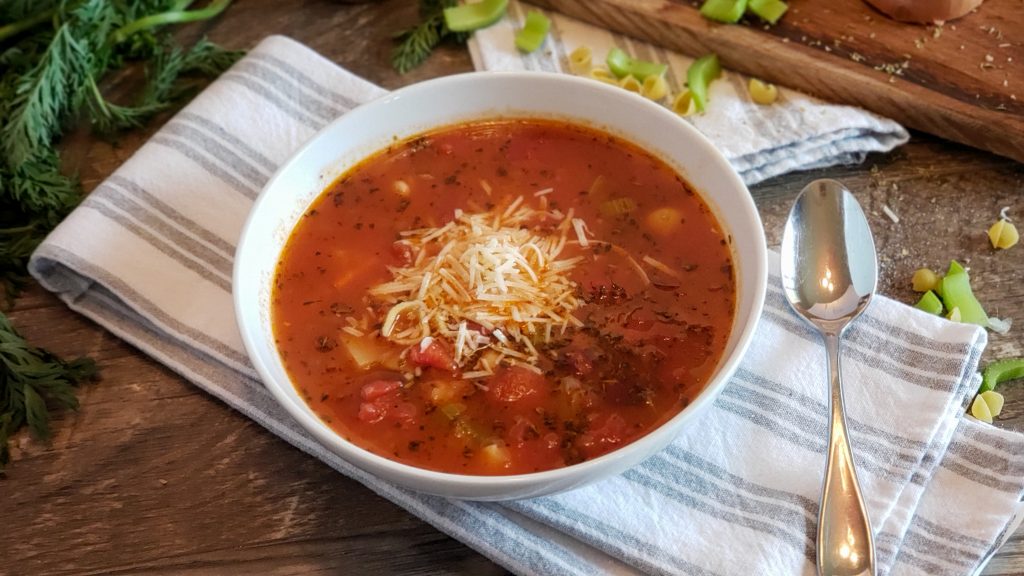 Hope you enjoy this recipe!
XO,
Morgan