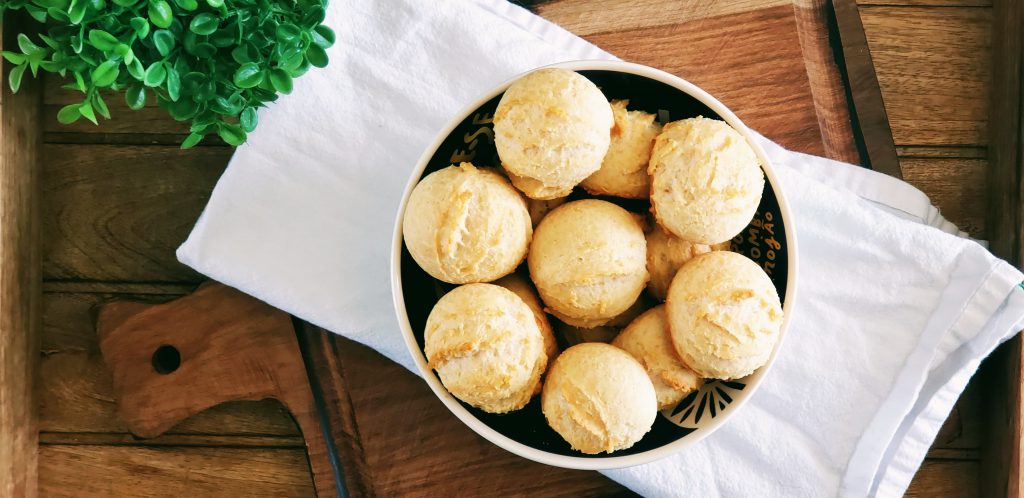 Maybe you've seen those yummy looking cheese bread balls rolling around Pinterest? You know, those amazing gluten-free balls that have the thin crust, with a gooey, cheesy inside from Brazil? Yup….those. Ever been wanting to make them at home? Because if you have, then keep reading! With just 3 ingredients, this recipe is extremely simple and easy:)
How I discovered these tasty snacks
Before traveling to Rio de Janeiro, Brazil for my very first time back in 2009; I did what most of us do. I headed to Google and looked up what I needed to make sure to see, do and eat. Anyone else? Amongst the normal, was to eat pão-de-queijo, Brazilian cheese bread. Oh. My. Goodness. Google nailed it. These cheesy bread bites are amazing.
I would walk around Copacabana near my hostel, and on many a corner, were these little "fast food" places. Except replace the burgers and Coke with açaí, every fresh-squeezed juice you could imagine, and small bite type food….including pão de queijo. These little places were my favorite. So during the weeks I was in Rio for a cello festival, these were a daily favorite of mine to snack on between rehearsals. Needless to say, returning back home, I missed these!
Since 2009, I've returned to Rio various times. And every time, the first thing I grab once I've made it through customs is pão de queijo with an ice-cold matte (Brazilian ice tea). This yummy combo would hold me over long enough until I got to the beach 😉
Pão-de-queijo- Brazilian cheese bread
The traditional recipe is a thin, crusty outer part, with an airy, cheesy inside. Nothing I've tried in the United States comes quite close. Living in Montana….its even harder to find the real deal. This recipe is not exact to what you would find in Brazil. However, it is simple, uses easy to find ingredients here in the the U.S. and is oh-so-good! Even my Brazilian hubby loves these! So I hope you enjoy them as much as we do! Bom Apetite!
I have included these affiliate links for your shopping convenience. I understand that you have lots of options when you shop. When you choose to shop using these links, it doesn't cost you anything, helps support our blog and I appreciate it!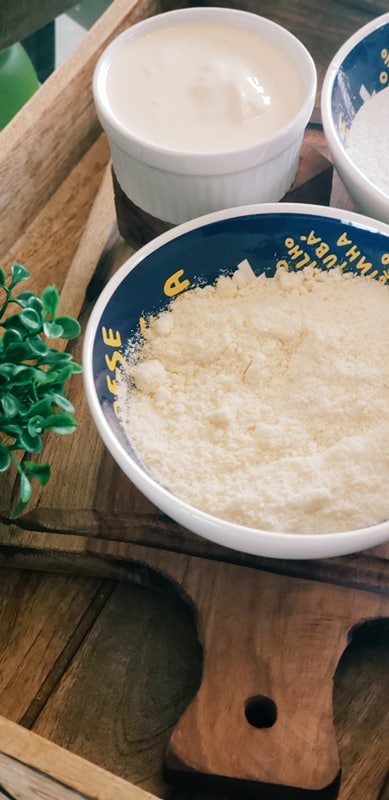 What you need: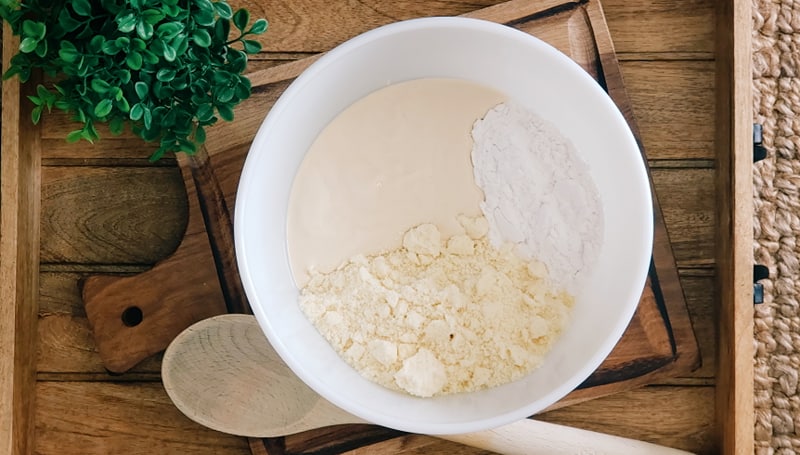 Prep time: 10 minutes
Bake time: 15-20 minutes
Yields: 15 individual pão-de-queijo balls
Directions:
Step 1 – Preheat oven
Preheat oven to 400 F.

Step 2 – Mix dry ingredients
In a large mixing bowl, add in the Parmesan cheese and tapioca flour and mix with a large mixing spoon.
Step 3 – Creme de leite
Open the can of creme de leite, and using a regular spoon, drain out MOST of the liquid from the bottom of the can. The consistency of creme de leite is like heavy cream. You are removing the some of the watery part that separates from the cream.
Make sure to leave a little so the mixture doesn't get too chalky and dry.
Tip: if it gets too dry, add a teaspoon of water at a time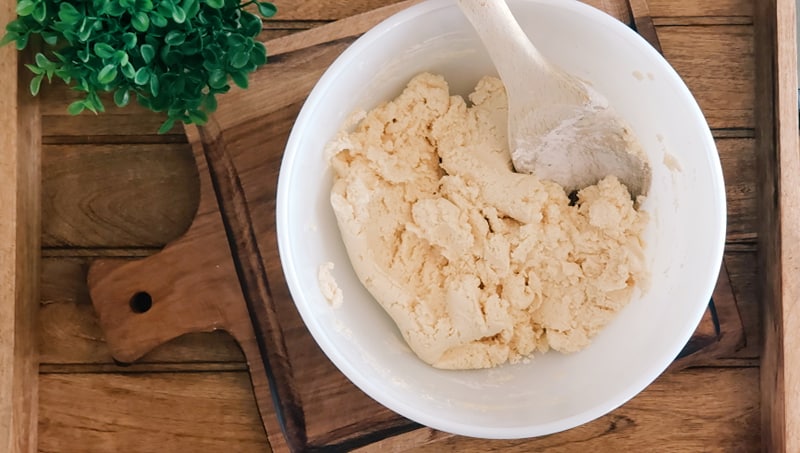 Step 4 – Mix all ingredients together
Mix in the creme de leite with the same large wooden spoon
(Scrape the bottom of the bowl making sure all the dry ingredients are thoroughly mixed)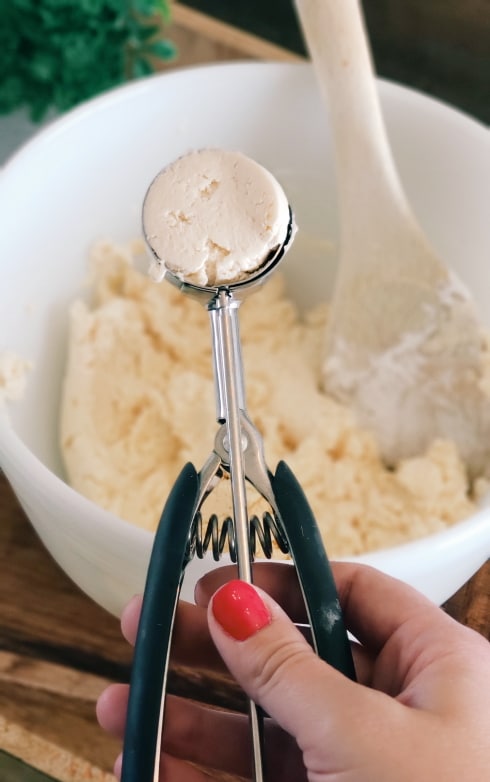 Step 5 – Scoop and place on cookie sheet
Using this cookie scoop, fill with the mixture and press down. I love this one I found on Amazon. But as long as it is a 1.5 tablespoon scoop, your cook time won't be affected based on this recipe.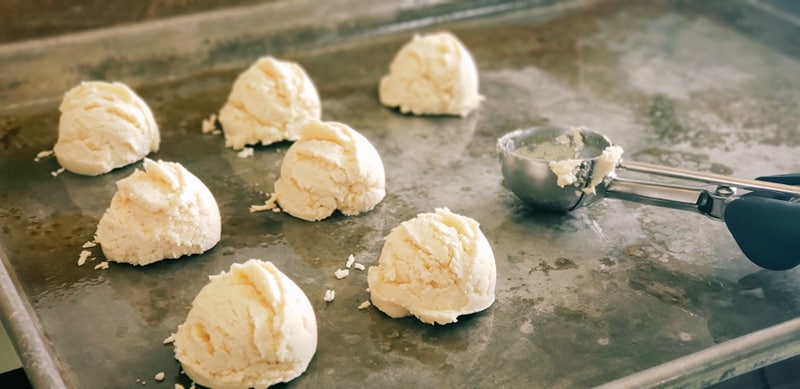 Step 6 – Arrange on cookie sheet
Arrange on a sprayed cookie sheet about 1.5" apart

Step 7 – Cook
Cook 15-20 minutes until they are lightly brown. Start with 15 minutes! Break one open at the 15 minute mark. It should be gooey cheesy in the middle and the bottom/top lightly browned.
If it needs a little more time, do one minute more at a time! If you overcook, they just taste like bread rather than gooey, yummy cheese bread balls.
Step 8 – Cool and enjoy!
Pull out of the oven and let cool for a few minutes before enjoying!
Enjoying fresh pão de queijo
These are best eaten warm out of the oven. But if you are a planner and well organized, you can follow the recipe, create the balls ahead of time, and then freeze before cooking. Then later, pull them out, and within a half hour of baking, you have fresh pão de queijo! But otherwise, start to finish, it only takes about 30 minutes to have them ready!
Tasty twists on pão de queijo
In Brazil, they are normally served in a small paper bag containing a single serving size for one person.
If you want to spice it up, try separating in half, and adding doce de leite (dolce de leche), or requeijão (cheese spread) in the middle.
If you are looking for a tasty twist on tomorrows sandwich, try this! So before rolling the balls, use a larger scoop which will result in balls that are large enough for a small sandwich. After they are done baking, cut in half, and you have delicious pão-de-queijo bread for your sandwich!
Or bake to go along with these traditional Brazilian black beans, this homemade Italian tomato sauce or other amazing recipes as a delicious and easy side to make a meal 🙂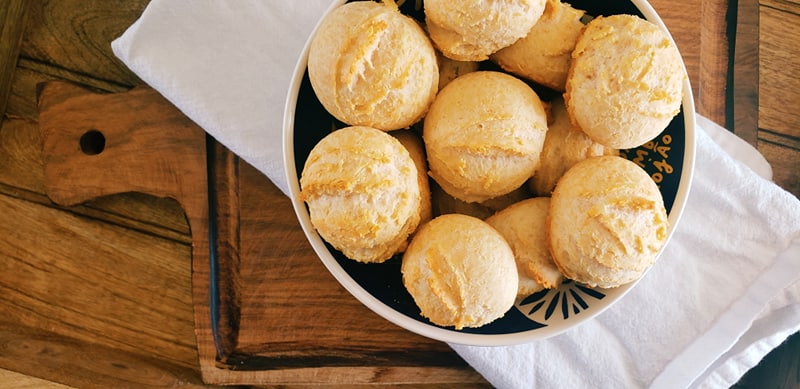 Looking for more yummy Brazilian recipes or tips to make life a little simpler and less chaotic? Subscribe to tidymo.com be the first to hear about new info!
XO,
Morgan