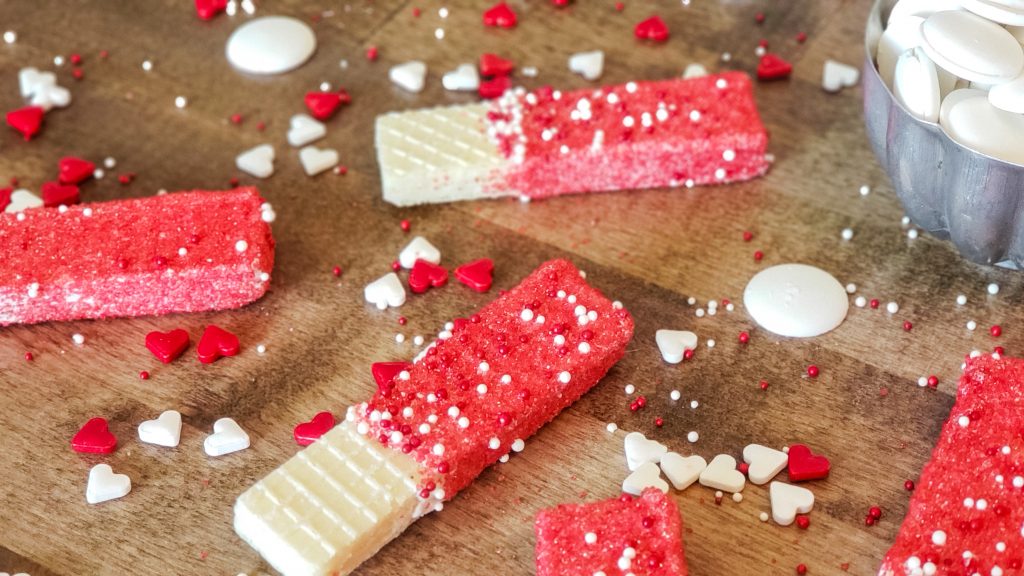 Valentine's Day just got sweeter with these delectable chocolate-covered wafer cookies dipped in sprinkles! Whether you're looking for a tasty school snack or a sweet Valentine's Day gift, these easy and delicious Valentine's Day Chocolate-Covered Wafer Cookies are a must-try.
Gone are the days of rushing to prepare fresh treats in the morning or the night before. These cookies offer a convenient and easy solution to your sweet-treat needs. With their quick preparation time and long shelf life, you can make them a week in advance and still enjoy their delicious flavor.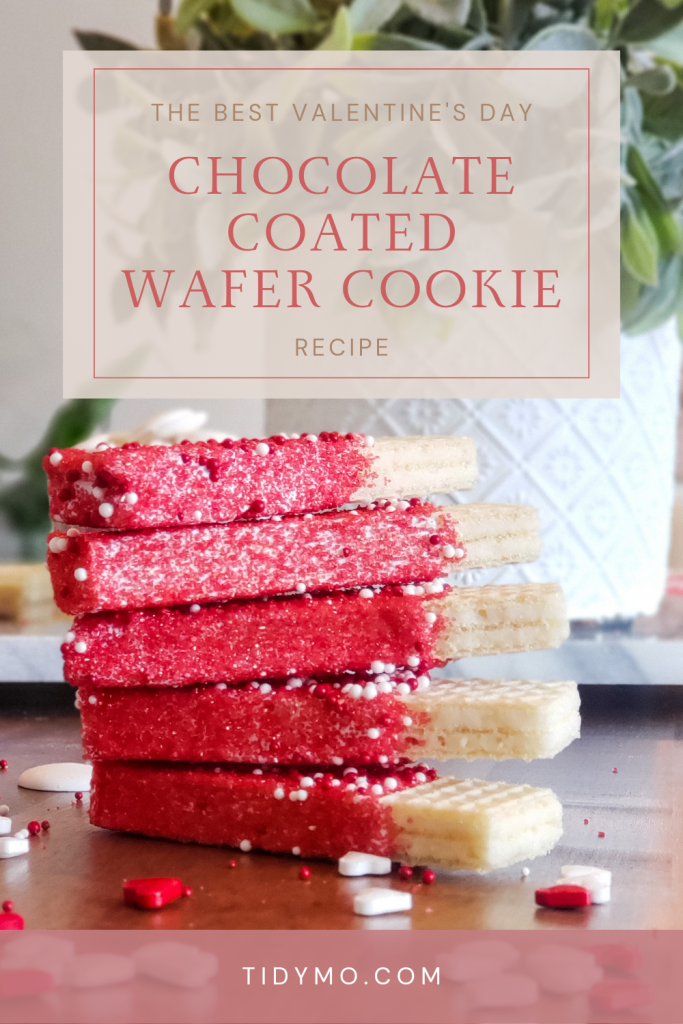 Not only are these Valentine's Day chocolate-cover wafer cookies quick and easy, but they also add a touch of magic to any occasion. And because you can use a variety of sprinkle types/colors; they are the perfect treat for any occasion! I've made them for my daughter's school snacks, a unicorn-themed birthday party, a mermaid-themed birthday celebration, and now for Valentine's Day treats!
So, why wait? Give these delectable chocolate-covered Valentine's wafer cookies a try today and experience the sweet joy they bring. And for more tasty recipes and birthday party ideas, be sure to subscribe to stay updated!





As a blogger, I may earn a small commission for any purchases made through the affiliate links on this site. I want to make it clear that your support means a lot to me and helps keep this blog running. Please note that using these links will not add any extra cost to your purchase. I have included them for your convenience, and I appreciate your support in using them.
Ingredients for Valentine's Day Chocolate-Covered wafer cookies:
What you need for this recipe:
Wafer cookies
Candy Melts
Valentines Sprinkles
Parchment paper
Straight frosting spatula
How to make Valentine's Day Cholocate-Covered Wafer Cookies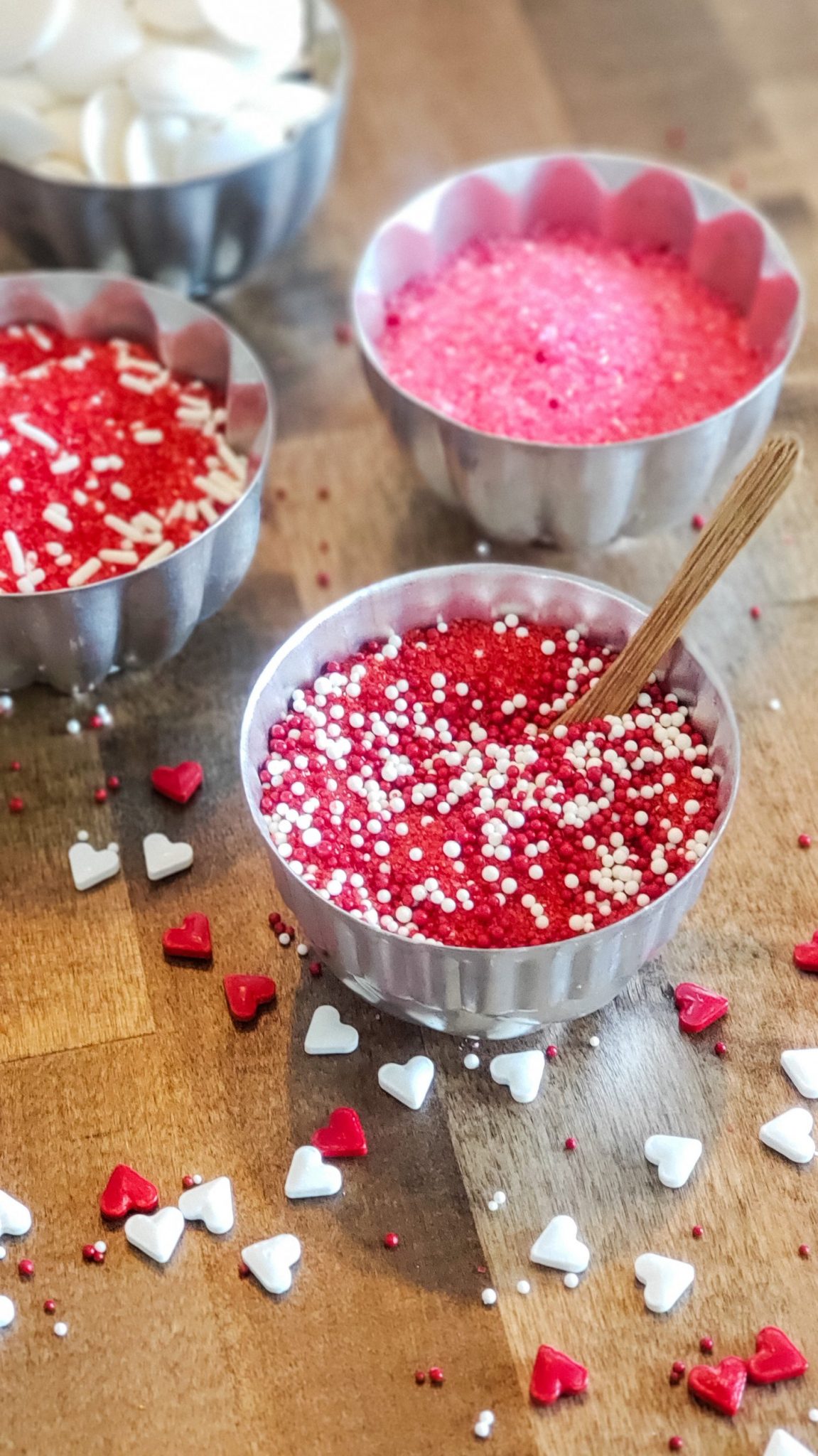 Step 1: Get Set up
The first step to ensuring perfect and pretty cookies is to prepare your work area.
Remember, the chocolate sets quickly and if you're not prepared, your sprinkles may not stick.
Gather a bowl with your melted chocolate (and a frosting spatula), a large bowl filled with sprinkles (and a spoon), and several sheets of wax paper.
By following this process for each cookie, you'll end up with beautiful and delicious treats that are sure to impress.
Step 2: Melt the Chocolate
To create a flawless base for your sprinkles, choose a high-quality chocolate melt in your desired color. I recommend using white chocolate as it provides a vibrant backdrop for the sprinkles to shine for these Valentine's chocolate-coated wafer cookies. This Wilton brand is a personal favorite of mine, as they offer a variety of colors and melt evenly for optimal results no matter the occasion you are baking for.
Melting the chocolate can be done quickly and efficiently in the microwave. Start by heating the chocolate in 30-second intervals, stirring after each interval. Ensure that you stir the chocolate well, even if it doesn't appear fully melted, as this will help the remaining chocolate to melt. Be careful not to overheat the chocolate, as it will become difficult to work with.
Step 3: Coat the wafer cookie in chocolate
As the melted chocolate is still in the bowl, it's time to work quickly.
Using a straight frosting spatula, hold the wafer cookie over the bowl of melted chocolate. Spread the chocolate evenly on the cookie, making sure to cover approximately 2/3 of the surface area. Don't worry about neatness at this stage, just focus on ensuring the areas that you want to be covered in sprinkles are fully coated with chocolate.
Use the spatula to gently remove any excess chocolate from the cookie. You should be left with a thin layer of chocolate coating. Don't forget to coat the ends of the cookie, as noted in the tip.
Make sure to coat the ends of the cookie for complete and even coverage.
Step 4: Add the sprinkles
It's time to bring your wafer cookies to life with a shower of sprinkles!
Remember, the chocolate layer dries quickly, so it's best to work with one cookie at a time.
I love using these nonpareil sprinkles because they are colorful and fun! But you could choose any sprinkles you want.
First, select the sprinkles of your choice. Nonpareil sprinkles are a great option, as they have a uniform shape that covers the chocolate layer evenly and minimizes bare spots. You can find a variety of color options here! Or take advantage of all the Valentine's Day sprinkles available at your local store and choose something small enough to give you good coverage.
With a cookie in one hand and a spoon full of sprinkles in the other, hold the cookie over the sprinkle bowl and sprinkle one side at a time. Keep refilling the spoon as needed to ensure that the entire chocolate layer is covered. Any excess sprinkles will fall back into the bowl minimizing waste.
Step 5: Let dry
Now that you have coated the wafer cookie with sprinkles, it's time to let them dry completely. To ensure that the sprinkles adhere to the chocolate, place the cookies in a single layer on a sheet of wax paper. Arrange the cookies in rows, making sure to leave enough space between each cookie to prevent them from sticking together.
Allow your chocolate-coated wafer cookies to dry completely, which may take anywhere from 30 minutes to an hour, depending on the humidity and temperature in your kitchen. Once they have dried, they will be ready to be enjoyed or stored in an airtight container for later!
Step 6: Store for freshness
These cookies can be stored for up to a week, making them a perfect treat to prepare in advance for a special occasion or gathering. However, proper storage is key to keeping them fresh and delicious!
Once the cookies have dried completely, place them in an airtight container. To prevent them from sticking together, place a layer of wax paper on the bottom of the container. Add a layer of cookies, then another layer of wax paper, and repeat until the container is full. This will ensure that the cookies remain fresh and that their delicious chocolate and sprinkle coating stays intact.
By following these storage tips, your Valentine's Day chocolate-coated wafer cookies will be ready to enjoy at any time. Happy snacking!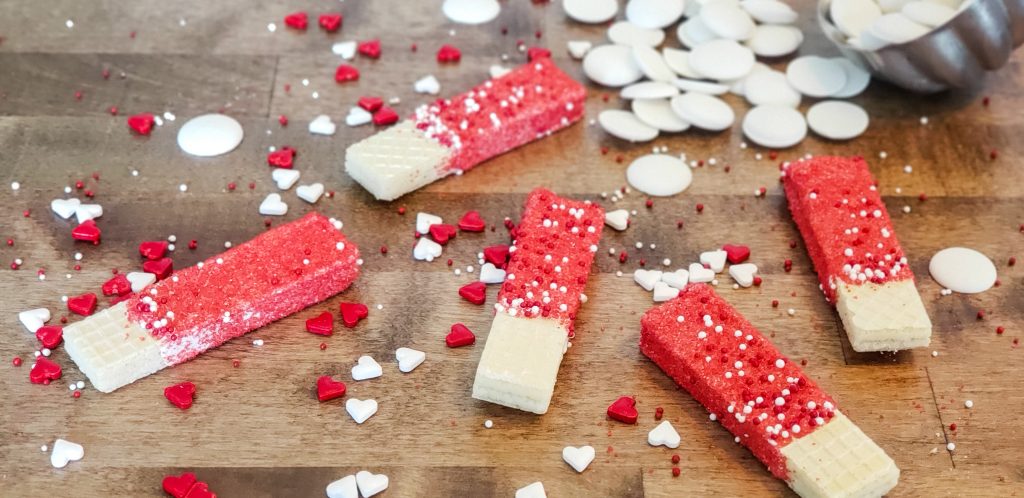 And that's a wrap!
Well, there you have it, a simple and delicious recipe that is sure to be a hit at any party or gathering!
These cookies are a staple in my recipe collection and have always been a crowd-pleaser. They are effortless to prepare, can be made in advance, and require minimal kitchen skills, yet the taste and presentation are always impressive.
I highly recommend these cookies for your next birthday celebration or any other festive occasion. Not only are they visually appealing, but they are also a hit with both children and adults. Whenever I serve these, they are the first snack to disappear, and I always receive requests for more!
So go ahead, give this recipe a try, and experience the joy of whipping up a delicious and stress-free treat that everyone will love!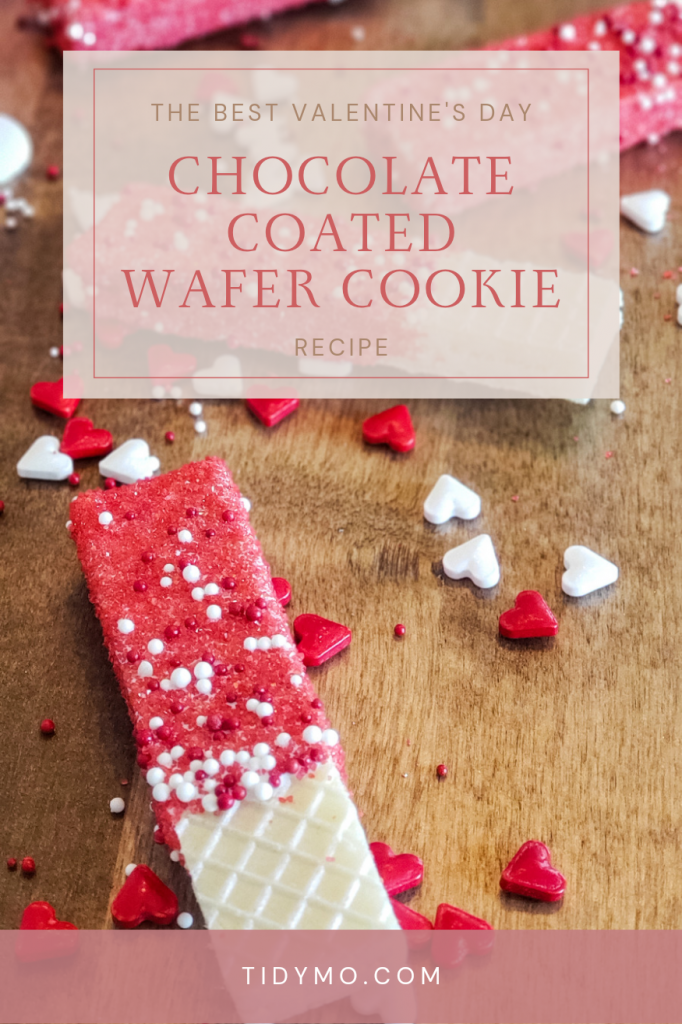 Looking for more recipe ideas? Make sure to check out a few of my favorite recipes below!
Don't forget to subscribe to our newsletter for more delicious and easy-to-follow recipes delivered directly to your inbox!
XO,
Morgan