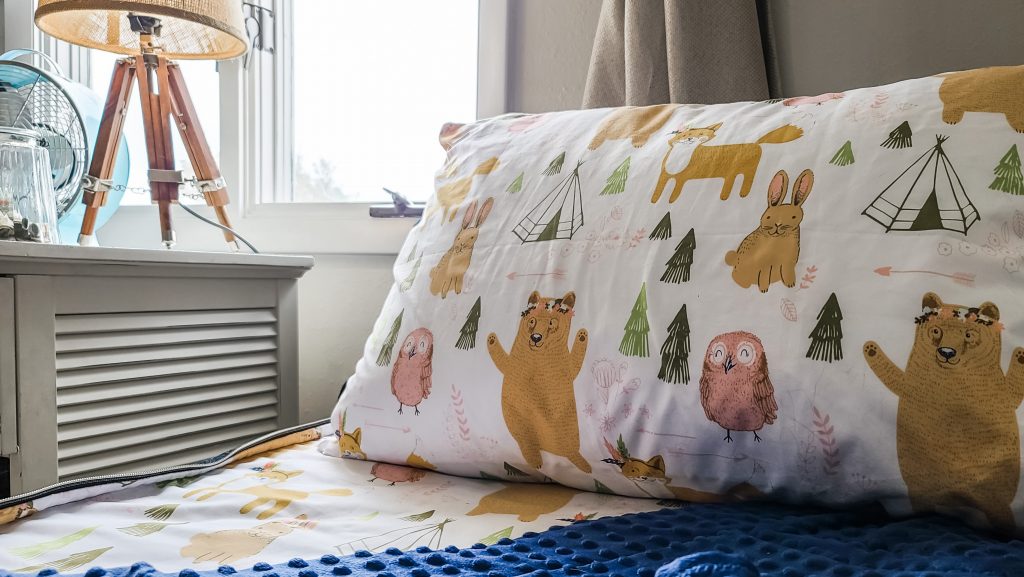 Are you tired of finding clean bedding and blankets heaped on the floor? Especially when you just washed them? What if I told you that I found a solution that will not only eliminate that problem but will also simplify busy mornings and the daily argument of bed-making with your kids? I'm so excited to introduce you to my new favorite mama hack; zippered bedding!
Zippered bedding is one of those items that you never know you needed; until you try it! You will quickly realize just how much this single product will help to simplify your life as a busy mama. I don't know about you, but I'll try just about anything if it reduces arguments with my kiddos, gives me a few extra moments to myself, or helps to simplify our busy household mornings. Zippered bedding does just that!
What is zippered bedding?
Has anyone else seen the ads from Beddy's on Facebook, Instagram, or Pinterest recently? I didn't even know that zippered bedding was a thing until I saw one of their ads. Then the middle of quarantine in March, I bit the bate and clicked on their link. Thus opened the rabbit hole of Beddy's advertisements everywhere 🙂
If you aren't familiar, Beddy's is one of the names behind a new type of bedding geared towards… well, everyone really. It consists of a fitted bottom sheet, a blanket, and a comforter. This one-piece bedding goes on easily like a fitted sheet making it perfect for kids or RV beds. Two zippers that attach the comforter to the bottom sheet, make bed making a breeze. All it takes is a simple zip and the bed is made!
Why zippered bedding?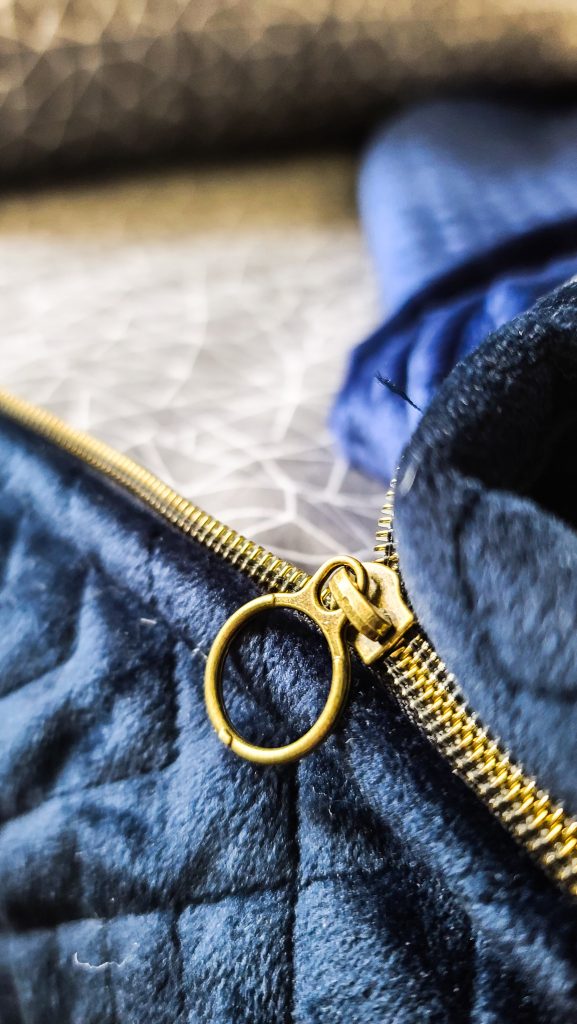 Functional
Zippered bedding is a game-changer for anyone who spends time in a pop-up trailer, camper, or RV. The compact size of these types of beds can make it challenging to find bedding that fits properly and stays in place. With zippered bedding, you don't have to worry about all of those issues. It fits snugly on the bed and stays put, so you can enjoy a comfortable and secure night's sleep. And because it's all one piece, it's super easy to make the bed in just a few seconds. No more struggling to stuff a comforter into a duvet cover or fiddling with fitted sheets that never seem to fit right. Zippered bedding is the perfect solution for anyone who wants to make bed-making quick and easy in a small space.
Simple and easy to use
What makes zippered bedding unique is that it is a single unit. By combining all of the traditional bedding components into a single unit, it streamlines the bed-making process and helps to keep everything in place. No more slipping and sliding, or waking up in the middle of the night to find your blankets bunched up at the foot of the bed. And because the fitted sheet is sewn in, you don't have to worry about it coming loose or bunching up. The zippers on either side of the bedding also allow you to customize the warmth and comfort of your bed to suit your personal preferences. You can unzip the bedding to use just the fitted sheet and blanket on warmer nights, or zip it up and use the comforter for added warmth. It's a versatile and convenient solution for any type of sleeper.
Comfortable
Experience the ultimate comfort with DIY zippered bedding. By making your own bedding, you have the opportunity to customize every aspect to fit your personal preferences. I've found that using minky fabric for the lining adds an extra layer of softness and warmth. And by including comfort panels over the zippers, you can enjoy even more comfort as you sleep. The combination of the minky lining and the outer quilt creates a cozy and comfortable comforter that will leave you feeling rested and refreshed each morning.
As you can imagine, I was instantly drawn to the concept of zippered bedding when I first came across Beddy's. However, I couldn't justify the price to purchase for all four of my kids.
A school bus conversion changed my mind:)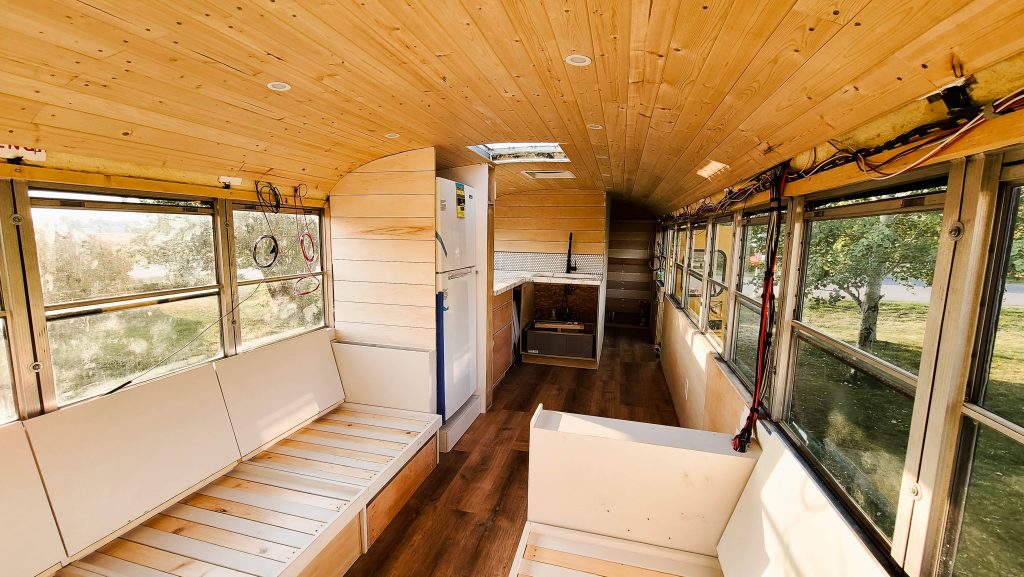 Then my husband pulled one of his moves and bought a school bus. Yes you read that right, he bought an old school bus and you can read all about that here 🙂
As soon as we dived into our school bus conversion and began planning, I quickly realized that with 4 kids' bunk beds, regular bedding wasn't going to work for us. All I could imagine were blankets, sheets, stuffed animals, and pillows overflowing from the bunks into an already tiny space. I realized that we needed bedding that was functional, warm, kid-friendly, and small-space friendly 🙂 That's when I decided that I needed zippered bedding.
However, even after realizing that zippered bedding was the perfect option for our school bus conversion, I still wasn't able to justify the high price tag. So I set out to try and sew my own. I found all the perfect fabric, knew all the colors, as well as the look I was going for. But I had absolutely no idea where to begin. By pure luck, I came across a pin on Pinterest on how to make your own zippered bedding. I had seen a few others, but they weren't the look I was after. This pin looked exactly like the Beddy's sets; only I could sew my own for a fraction of a price= mama win!
Making your own zippered bedding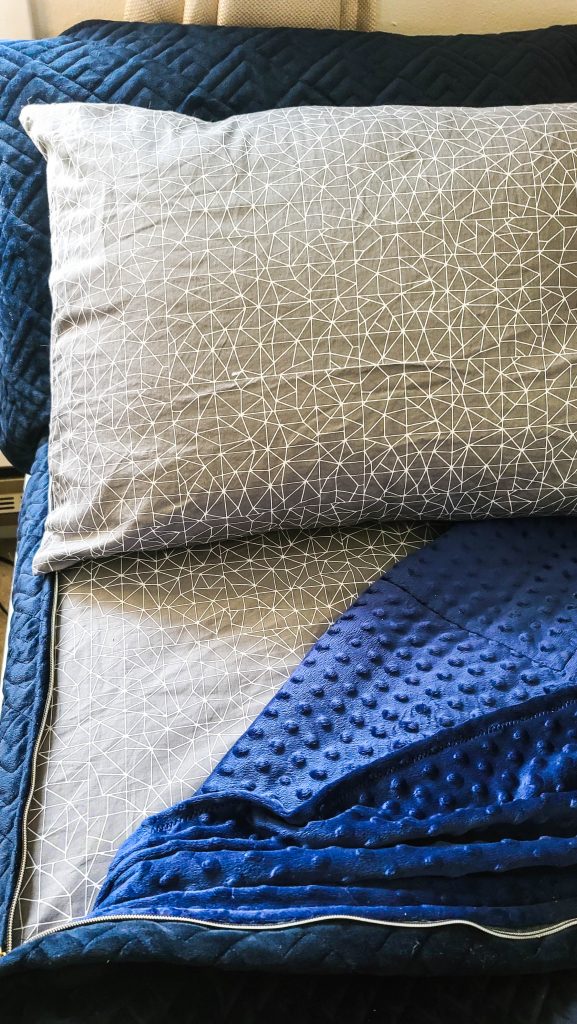 I'm always looking for ways to make motherhood easier, and the zippered bedding tutorial from Twirlybird patterns really delivered. The step-by-step instructions were easy to follow. In addition, the tutorial included helpful photographs and I was able to create beautiful zippered bedding sets for my RV-sized bunk mattresses and a full-size bed for our school bus conversion. My whole family, from my toddler to our pets, love these bedding sets and they've made a big difference in our daily routine. I'm so glad I found this tutorial and tried making my own zippered bedding.
As a blogger, I may earn a small commission for any purchases made through the affiliate links on this site. I want to make it clear that your support means a lot to me and helps keep this blog running. Please note that using these links will not add any extra cost to your purchase. I have included them for your convenience, and I appreciate your support in using them.
What you need: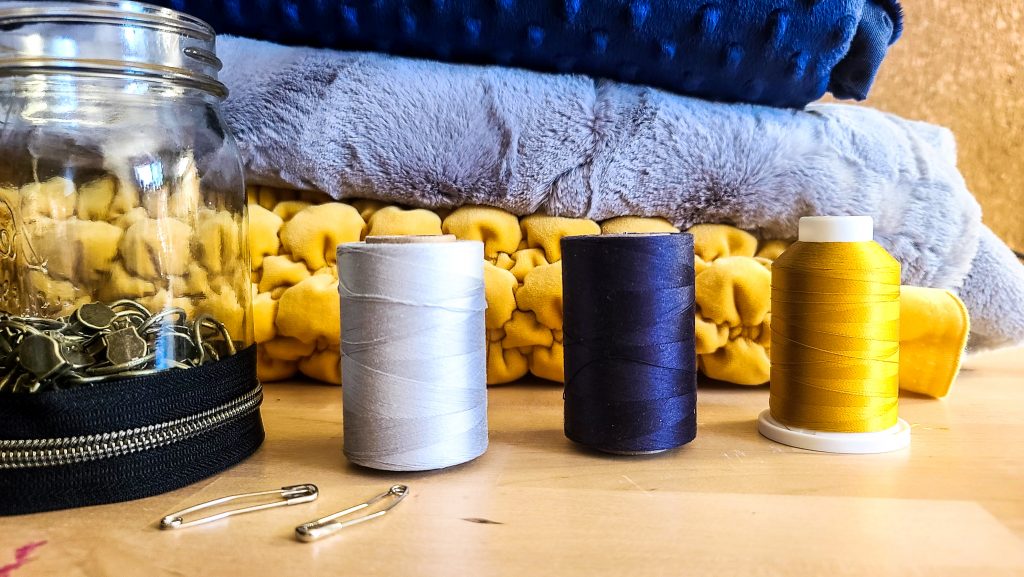 If you want to avoid a store run and have all the items shipped straight to you, here is the complete list of what is needed to complete this project! Place the order and have your box full of goodies arrive at your door in just a few days!
I've created a shopping list on Amazon of everything I used for this project. Many items on this list I have from previous projects. While you can tackle this project without all of these items, you will thank me later if you invest in them before you begin 🙂
sewing instructions from Twirlybird patterns ( you can check out her Etsy page below)
fabric- you will need 4 different fabrics. Make sure to read the directions thoroughly to determine the correct yardage you will need
top quilt and sides
minky lining
flannel lining
sheet
thread to blend in with your quilt
seam ripper
extra needles
basting needle
extra bobbins
1/4 inch braided elastic *
rotary cutter
metal yardstick
cutting mat
#5 zippers **
plastic clips
pins
chalk marker
bobbin winder
safety pin
* Make sure to use braided elastic. I tried the other kind and it couldn't hold up to the stretch needed for this project and kept breaking*
** For zippers you can either purchase them to size, or you can buy in bulk and do your own. I had never made my own zippers before this project, but it was so simple to do and allowed me to get the exact look I wanted at a fraction of the price!**
Tips: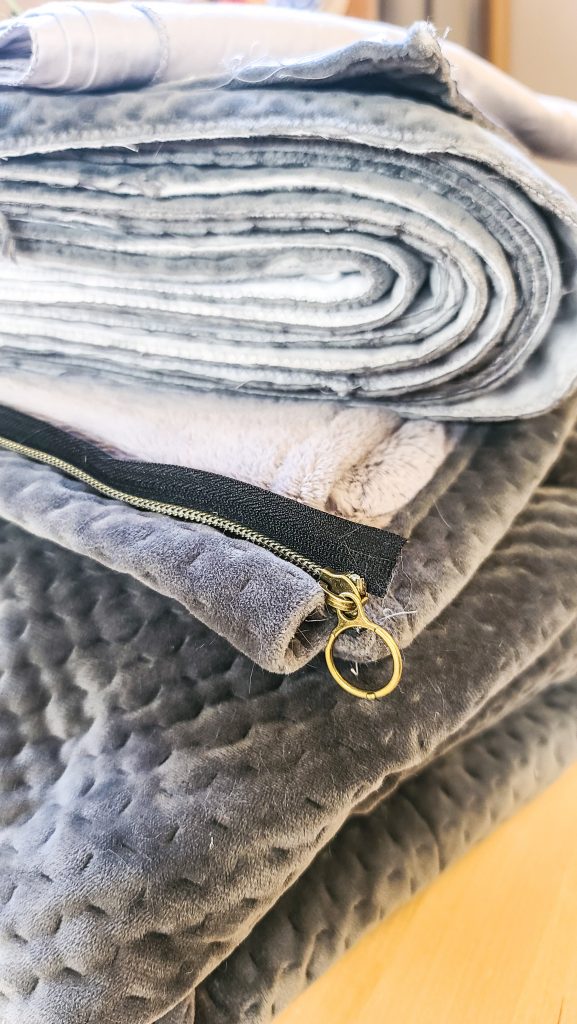 Twirlybird Patterns did a great job of clearly laying out the instructions. But after sewing 5 of these zippered bedding sets, I discovered several tips that made it easier for me and figured I'd share in case they can help anyone else 🙂
Use this sewing pattern!– The best advice I could possibly pass on, is to purchase this sewing pattern from Twirlybird Patterns on Etsy. It is very reasonably priced, affordable, and worth every penny!
Read the instructions first!– Specifically, read the cut list before you buy any fabric. Even though I always tend to overbuy fabric, I made the mistake of purchasing fabric before reading the instructions. I was off by quite a bit from what I needed. She does a great job of giving specific cut sizes which makes it easy. However, that also means that you need to take the time to measure and plan your cuts in order to purchase enough of each fabric.
Don't skip steps- Sounds fairly straightforward and simple. However, there were a few steps that I skipped on one bedding set. I hoped to save time by skipping ahead. Instead, that backfired. Those steps that you are tempted to skip, I can guarantee you that they are probably the most crucial ones 🙂 So stick to the directions.
Reread every step- With my level of sewing, it was important to read and re-read many steps before actually doing them. I would often double-check the photo to make sure I was on the right track. There is a decent amount of switching between which side of the fabric you are working with, the type of stitch, and which foot. I found it to be quicker to double-check than to tear out the stitching.
Measure twice, cut once- If you have done any sewing, then you most likely have heard this. This saying is always true when it comes to sewing. However, I found that when sewing larger projects like these bedding sets, you don't have a ton of excess fabric. So avoid expensive mistakes with miscuts and measure everything twice.
Use the right tools- Have you ever paid attention to how the level of enjoyment and the experience itself improves when you utilize the proper tools for anything? Or how much better of a result did you end up with? Yes, you can get away with not having all of the supplies I listed. However, if you can, invest in them now. They will help you achieve a professional-looking product each time and save you a lot of frustration.
Buy extra bobbins and needles- I can't tell you how many needles I broke sewing these bedding sets. It's so frustrating to be in the midst of sewing and have a sewing needle break, and you don't have more. Same with bobbins. You will go through a lot of thread while making this bedding. Have extra bobbins filled and ready. That way you will be able to switch them out quickly and maintain your sewing rhythm.
Have a bobbin winder- This is more of a personal preference. I like having a small bobbin winding machine separate from my actual sewing machine. This allows me to quickly wind bobbins and avoid re-threading my machine and needle.
Choose your fabric- My absolute favorite part of making my own zippered bedding is being able to customize it. There are endless possibilities; from the quilt to the sheets, all the way to the color of the zipper. Keep in mind that you don't have to just buy your fabric from Joann's. Look around your house for extra sheet sets, or blankets that you could use. Or look online for bulk fabric or pre-made quilts that you can cut.
Wash your fabric first- Again, if it's something you are tempted to skip, all the more reason not to. Wash and dry all your fabric before you sew! Otherwise, it will look great once you finish. However, the same may not be said after the first wash.
Buy these clips!- I struggled through my first zippered bedding set before I hopped on Amazon and just bought them. These sewing clips will not replace regular pins which you will still need. However, these are perfect for quickly holding multiple layers of fabric together like this bedding. I tried regular pins first, and they just kept bending. These clips are inexpensive and so easy to use! So far, they have held up great and seem to be of good quality. I've stepped on them and they have held up even to my toddler "helping" me clip 🙂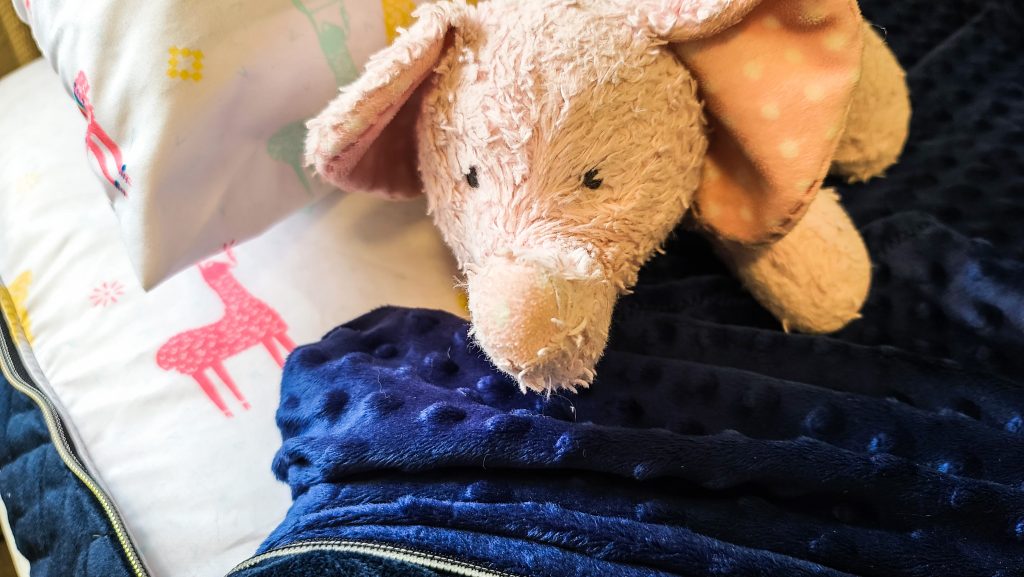 I hope you have as much fun choosing out your zippered bedding look as I did! So many fun colors, patterns, and styles to choose from; for a one-of-a-kind look:)
Questions? Drop them in the comments below! Otherwise, make sure to subscribe to be the first to hear about new and fun projects 😉
Update on the zippered bedding pattern!
I've been getting more messages on this pattern than I have time to respond to 🙂 But hang tight! I spoke to the gal from A Handcrafted Journey that designed the pattern I used and unfortunately at this point, she is not going to release the new/second DIY zippered bedding pattern she designed.
While I completely understand where she is coming from and protecting herself, her family, and her business; I'm also so disappointed that this pattern isn't available at this point for everyone.
I would suggest following her on Instagram as that's where any/all updates regarding this bedding would be. My hope is that at some point she will decide to go for it and put it back on her Etsy page!
Fingers crossed this happens!!!
XO,
Morgan