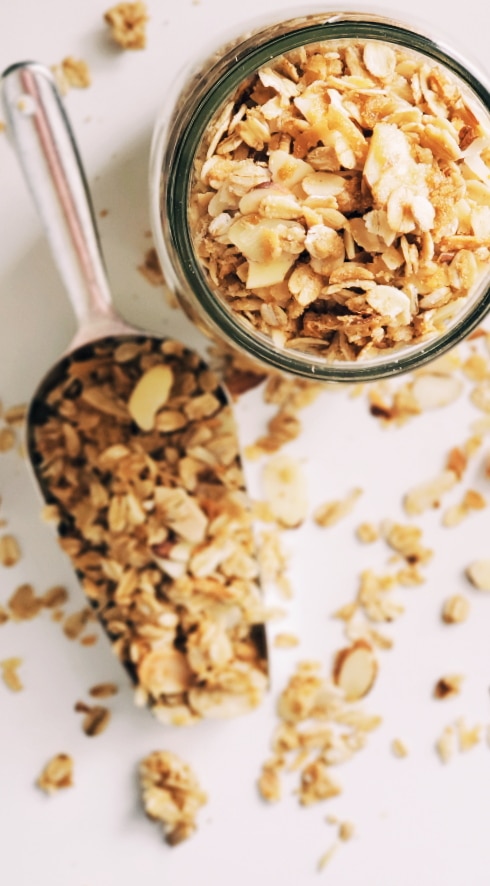 Slightly crunchy and sweet granola topping your morning yogurt, in a bowl with milk, or sprinkled on top of a homemade açaí bowl with fresh fruit, is a perfect way to start the day or take a break for a snack. Until you go to your cupboard to grab it, and you're fresh out. Then one of two options come up. Go to the grocery store, or try and convince the mini humans to eat something else when their mind is set on granola. Or preheat your oven and get ready to make your own! If you have been on the hunt for an easy, quick and yummy granola recipe, keep reading!

My family has been a fan of granola for what seems like forever. Although I've never been a fan of the store-bought varieties. Flavors are too strong, there are too many ingredients, or it's just too hard/crunchy and is hard to chew or hurts. Growing up, there was one granola I liked from a local, organic-based store. It was just sweet enough, no whole nuts, and wasn't too crunchy. The catch…..it was expensive so we only were able to get it once in a while.
So when my kiddos started asking for granola for breakfast almost every day it seemed like, I needed to find an option that tasted as good, but that was family budget friendly. Oh, and easy and quick. That's always #1 for me in order for it to fit into busy life. This is my rendition on a recipe that I came across that has quickly become a hit in our household. Hopefully you enjoy it as much as my family does!
I have included these affiliate links for your shopping convenience. I understand that you have lots of options when you shop. When you choose to shop using these links, it doesn't cost you anything, helps support our blog and I appreciate it!
Granola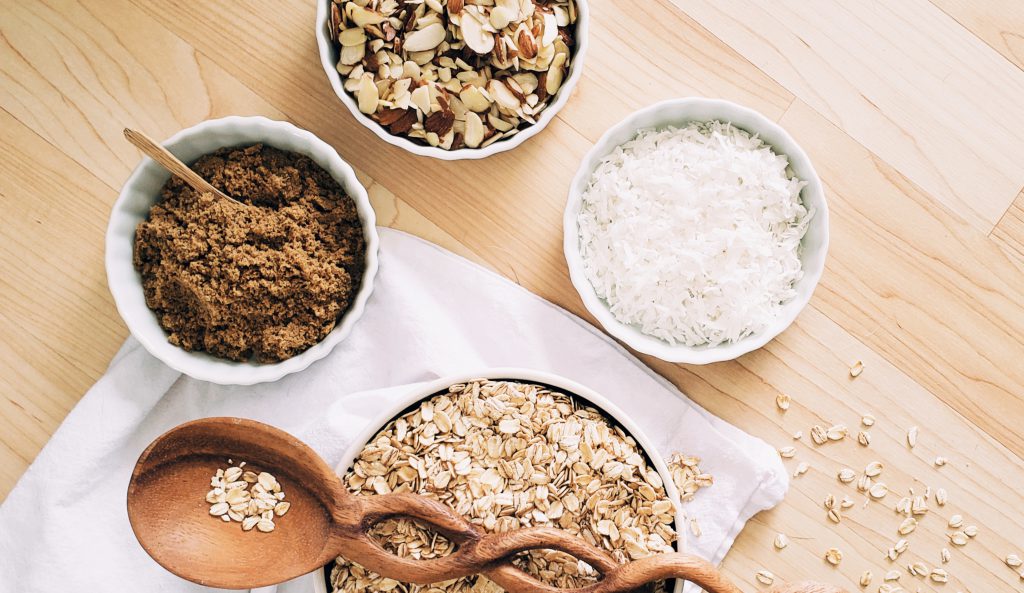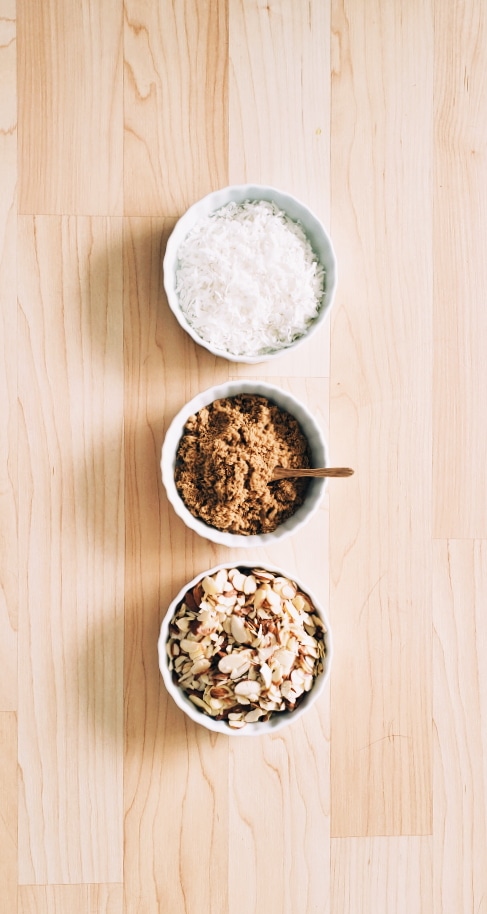 What you need:
Directions: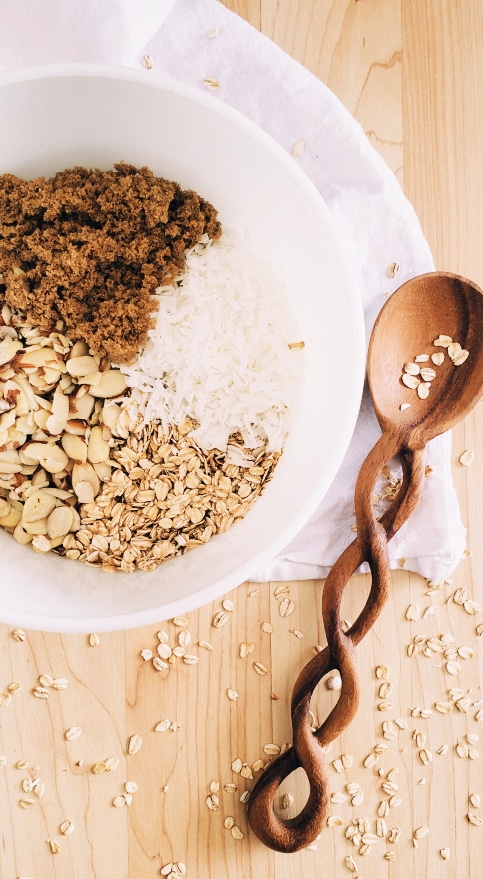 Step 1 – Preheat oven
Preheat the oven to 250 F.
Step 2 – Line cookie sheet
Line a cookie sheet with parchment paper.
Step 3 – Mix dry ingredients
In a large bowl, combine; oats, almonds, coconut, and brown sugar
Step 4 – Mix liquid ingredients
In a separate bowl combine; maple syrup, oil, and salt
TIP: measure the oil first. That way when you measure the syrup, it will all slide out easily)
Step 5 – Combine all ingredients
Combine the liquid ingredients into the large bowl with the dry ingredients.
Step 6 – Mix well
Mix well until all the dry ingredients are lightly coated with the syrup mixture.
Step 7 – Spread onto cookie sheet
Spread a thin layer of granola onto each cookie sheet.
Step 8 – Cook
Cook for 50 min- 1 hr. You will know it is done when it is LIGHTLY golden brown.
Step 9 – Stir halfway through cooking time!
Stir mixture on each cookie sheet halfway through cooking time.
Step 10 – Eat and enjoy!
Enjoy that crunchy goodness!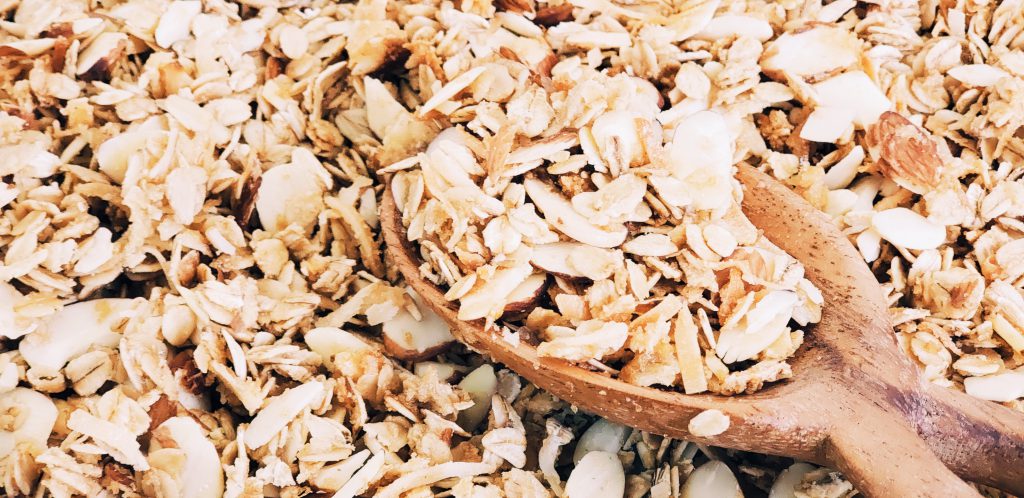 So now that you see how simple this is to make……here is the million dollar question. Will you be buying granola from the store or making it at home from now on?
My favorite part about this recipe, is that it is amazing as is. Simple, but good. But if you have other ingredients you want to add, go for it! Feel free to use this as the base, and customize it to your own liking:) But can I ask you a favor? Share your favorite add ons with the rest of us in the comments below so that we can give your awesome rendition a whirl? Happy crunching 🙂
XO,
Morgan